a
Happy New Year 2016
Navy Recognition Wishes You a Happy New Year 2016
As 2016 just kicked-in, Navy Recognition (Army Recognition Group) would like to wish you all a Happy New Year filled with Prosperity and Success. While 2015 was a tremendous year, with over 1 Million readers (a first for us), 2016 promises to be even better.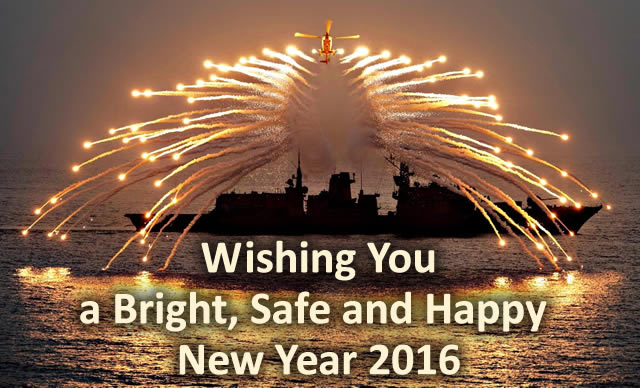 Royal Navy picture showing a Lynx MK 8 helicopter from 815 Squadron, Royal Naval Air Station Yeovilton, litting up the night sky with her decoy flares over Type 23 Frigate HMS Richmond
Many of our naval defense exhibtion coverage and exclusive stories really got your attention in 2015. For an overview of our Top Ten stories of 2015,
simply follow this link
.
We would like to thank our readers for their fidelity and for making Navy Recognition a refference and trusted source for Global Naval Defense and Maritime Security news.

For the first time, Navy Recognition had over 1 Million readers in 2015 (and over 3 Millions combined since its launch in August 2011).
2016 promises to be even better as we can already announce that our team will be covering more naval defense events than ever. We'll start in less than two weeks as our team will be covering the Surface Navy Anual Symposium in Washington DC. We are delighted to announced we have renewed our status as Official Online Show Daily for DIMDEX in Qatar in March, Balt Military Expo in Poland in June and Euronaval in Paris in October. Finally we are very proud to be selected for the first time as the Online Show Daily and WebTV for Sea-Air-Space 2016 in May!

Thanks again for your continued support and stay tuned throughout 2016 for your fix of naval defense news!

Xavier Vavasseur,
Navy Recogniton's Chief Editor.