a
Defense Industry News - USA, Japan
Northrop Grumman to Produce the First E-2D Advanced Hawkeye for Japan
Northrop Grumman Corporation has received a U.S. Navy contract modification for non-recurring engineering and recurring support to configure the first Japanese
E-2D Advanced Hawkeye
airborne early warning aircraft.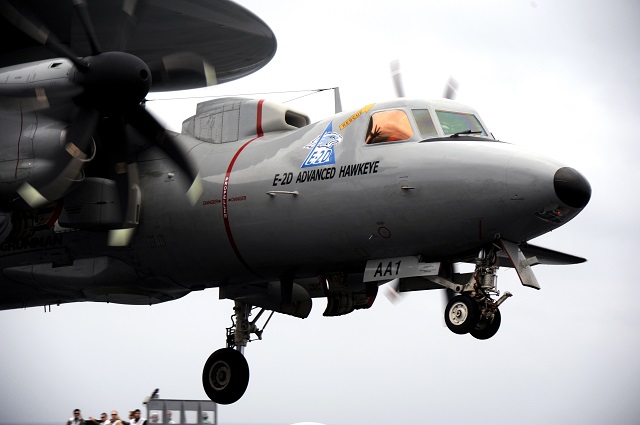 The U.S. Navy announced that the E-2D Advanced Hawkeye achieved Initial Operational Capability Oct. 10 2014. IOC signifies that the first operational squadron, Carrier Airborne Early Warning Squadron (VAW) 125, is manned, trained, equipped and ready to start deployment preparation. The E-2D Advanced Hawkeye joins the E-2C in providing its airborne early warning, command and control capability to the carrier strike group. (U.S. Navy photo)
Under the $285,975,244 contract modification, Northrop Grumman will configure the Japanese E-2D aircraft utilizing the same E-2D multiyear production line used for U.S. aircraft to allow for a more efficient and affordable delivery schedule. The E-2D is the world's only in-production AEW aircraft.
In November 2014, the Japan Ministry of Defense competitively selected the E-2D to fulfill an emerging next-generation AEW requirement.
"The E-2D will provide a critical capability that will serve as a force multiplier for the Japanese government," said Jane Bishop, vice president, E-2D Advanced Hawkeye and C-2 Greyhound programs, Northrop Grumman. "First responders will be able to receive and act on information more quickly than before with greater airborne early warning capability and a networked communications system."
The Japanese Air Self Defense Force has operated the E-2C Hawkeye since the late 1980s. The E-2C is also currently in use by Taiwan, France and Egypt.
The E-2D Advanced Hawkeye is the newest variant of the E-2 aircraft platform. It features a state-of-the-art radar and upgraded aircraft systems that improve supportability and increase readiness. The E-2D Advanced Hawkeye joins the F/A-18 and EA-18G Growler to comprise the future carrier flight deck, continuing the U.S. Navy's integrated warfighting legacy. The E-2D Advanced Hawkeye, along with the E-2C, provides command and control capability to coordinate multiple missions, including air warfare, strike warfare, surface warfare and search and rescue operations. Acting as a "digital quarterback," the E-2D scans the environment with its onboard sensors and processes this data with its tactical mission computer. It distributes the tactical picture to command centers and other assets through onboard communication subsystems. The U.S. Navy also utilizes this capability to participate in humanitarian and disaster relief operations.
To learn more about the E-2D Advanced Hawkeye read our special focus at this link.