a
Naval Forces News - China
China Commissioned the 21st Type 054A Frigate Jingzhou with PLAN East Sea Fleet
The guided missile frigate Jingzhou (Hull Number 532) officially joined the People's Liberation Army Navy (PLAN or Chinese Navy) on Tuesday. A naming and flag-presenting ceremony was held to mark the commissioning of the Type 054A Frigate to the East China Sea Fleet of the PLAN at a naval port in Zhoushan city of east China's Zhejiang province on January 5, 2016. Jingzhou is the 21st Type 054A Frigate and is assigned to the PLAN's South Sea Fleet.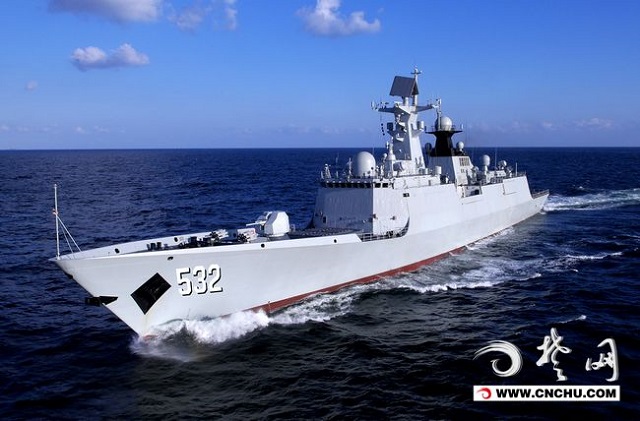 Jingzhou
(Hull Number 532) is the 21st Type 054A Frigate to join the PLAN
Type 054A Frigate
Based on the Type 054 Frigates, the Type 054A incorporated a larger number of more-advanced indigenous systems. The first of class entered service with the PLAN in 2007.
Type 054A Frigates are fitted with 32 VLS (Vertical Launch System) cells for HQ-16 surface to air missiles, 8x YJ-83 (export designation C-803) anti-ship missiles, a H/PJ-26 76mm main gun, two H/PJ12 (export designation Type 730) 30mm CIWS guns (
for frigates 1 to 16 in the series
), two triple YU-7 torpedo launchers and anti-submarine rocket launchers for ASW warfare.

Rare picture showing the reloading of a Type 054A Frigate in anti-ship and surface-to-air missile

According to the latest information from our sources in China, following the initial order of 24 Type 054A frigates, the Chinese Navy would have recently added an additional order for 8 vessels of the type.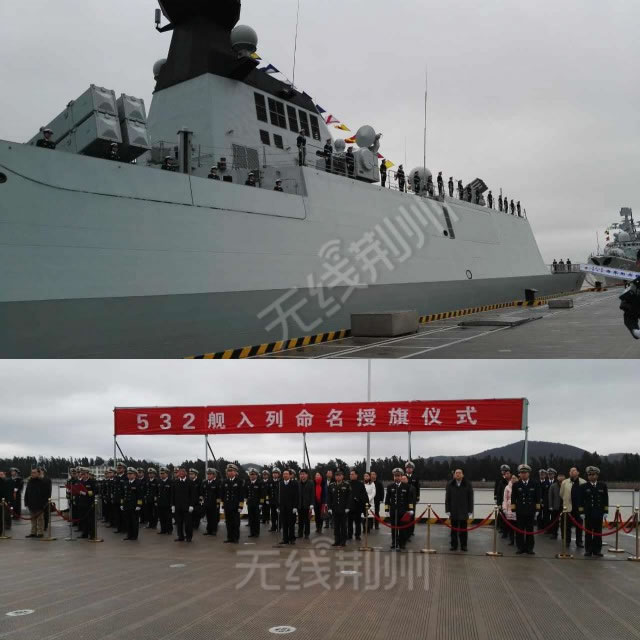 Jingzhou
(Hull Number 532) during the commissioning ceremony