a
Naval Forces News - Russia
Oscar II Submarine Orel Damaged by Fire to Join Russian Navy by Yearend After Repairs
The Northern Fleet's nuclear-powered submarine Orel recently damaged by fire at the Zvyozdochka Shipyard in Severodvinsk in north Russia will join the Russian Navy before the end of 2016 after repairs, shipyard spokesman Yevgeny Gladyshev told TASS on Wednesday. Orel (K-266) is a Project 949A Antey nuclear-powered cruise missile submarine (SSGN) (NATO designation: Oscar II).

"The Russian Navy will receive the nuclear-powered submarine Oryol armed with missiles and torpedoes in late 2016 in accordance with the schedule without any delay," Gladyshev said.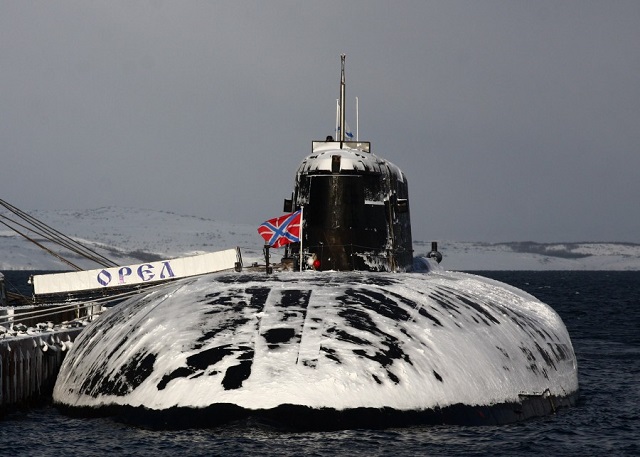 Russian Navy Northern Fleet Orel (K-266) SSGN (NATO designation: Oscar II)

"The submarine will be put afloat in April," he added. The nuclear submarine was damaged by fire in the shipyard's repair dock during wielding works on April 7, 2015. Insulating rubber coating started to burn in the inter-hull space at the submarine's stern.

Shipbuilders and the crew who were on board left the submarine promptly and in an organized manner. Nobody was injured. The dock section was partially flooded up to the level of the submarine's waterline to extinguish the fire. Nuclear fuel was unloaded from the submarine's reactors. There was no ammunition, fuel or lubricants onboard.

The accident did not create any environmental or radiation contamination threat. The fire was caused by the violation of safety rules during wielding works. According to the shipyard, the damage caused by the fire was minor. The Zvyozdochka Shipyard assured the Russian Defense Ministry that it would fulfill the state contract for the repair of the nuclear-powered submarine Orel in accordance with the schedule specified by the contractual terms.

The Northern Fleet's K-266 Antey-class nuclear-powered submarine Orel arrived at the Zvyozdochka Shipyard's dock in April 2014 to undergo repairs. After the repairs, the submarine's service life will be extended by 3.5 years. The nuclear-powered submarine Orel will become the third Project 949A vessel the Zvyozdochka Shipyard will repair to restore its technical readiness.

In November 2011, the shipyard completed the emergency repairs on the submarines Voronezh and Smolensk and extended their service life by 3.5 years.

The Project 949A nuclear-powered submarine has a length of 155 meters, a displacement of 24,000 tons, a depth of submersion of 600 meters and an underwater speed of 32 knots. Its crew totals 107. The Project 949A nuclear-powered submarine is armed with six torpedo tubes and 24 launchers to fire Granit cruise missiles with a range of about 500 kilometers (311 miles).

© Copyright 2015 TASS. All rights reserved. This material may not be published, broadcast, rewritten or redistributed.