a
Naval Industry News - Russia, India
Indian Navy Source Confirms Russian offer for Project 23000E nuclear-powered aircraft carrier
A source in the Indian Navy confirmed that Russia has offered India the joint construction of a nuclear-powered aircraft carrier. The final decision will be announced in late 2016.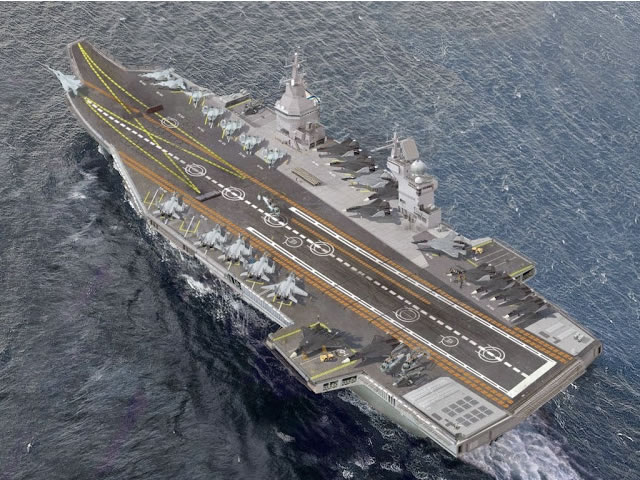 A nuclear powered Project 23000E Storm aircraft carrier may displace 80,000 to 85,000 tonnes with some 70 aircraft on board.
"A Russian military delegation offered India Project 23000E 'Storm' (E stands for export-oriented, Eksportny) heavy aircraft carrier several weeks ago. The surface combatant is known to have a full displacement of about 100,000 t and a price of about USD5.7 billion. The proposed carrier has been jointly developed by the Krylov State Research Center (Russian acronym: KGNC) and the Nevskoye Design Bureau (Russian acronym: NPKB, a subsidiary of the United Shipbuilding Corporation). The building of the Project 23300 'Storm' aircraft carrier is supposed to take about 10-11 years," a source in the Indian Navy said.

He added that India`s Ministry of Defense (MoD) would consider the Russian offer. "However, the Russian proposal will not take a kind of precedence. The MoD is planning to review it in strict accordance with the standard procedure. The final decision will be announced in late 2016," the source added.

In May 2015, the Indian Navy allocated INR300 million (USD4.5 million) to start design works on a new nuclear-powered aircraft carrier intended for the service. The ship is supposed to be named 'Vishal'.

It should be noted that India is working closely with the United States to develop an aircraft carrier. In 2015, both countries established the US-India Joint Working Group on Aircraft Carrier Technology Cooperation (JWGACTC) to address the issue. The third meeting of the group is supposed to take place between August 9 and August 12 in Washington DC.

The Project 23000 multirole aircraft carrier is designed for operations far in the ocean, attacks on land-based and naval targets, provision of combat stability for friendly naval forces and air defense of Marines and supporting ships during amphibious assaults. The future ship is supposed to displace about 95,000 tons, measure 330 m long and have a speed of 30 knots. The carrier is to carry sophisticated radio equipment, radars and self-defense systems. Her complement will be several thousand servicemen, including the personnel of her air wing.

© Copyright 2016 TASS. All rights reserved. This material may not be published, broadcast, rewritten or redistributed.