a
Naval Forces News - Russia
Second Project 22350 Gorshkov-class Frigate Admiral Kasatonov Received its Weapons Suite
The second
Project 22350
Gorshkov-class frigate (the first production-standard one) The
Admiral Kasatonov
, in construction by the Severnaya Verf Shipyard has been fitted with her weapons suite, the shipyard's press office has told journalists.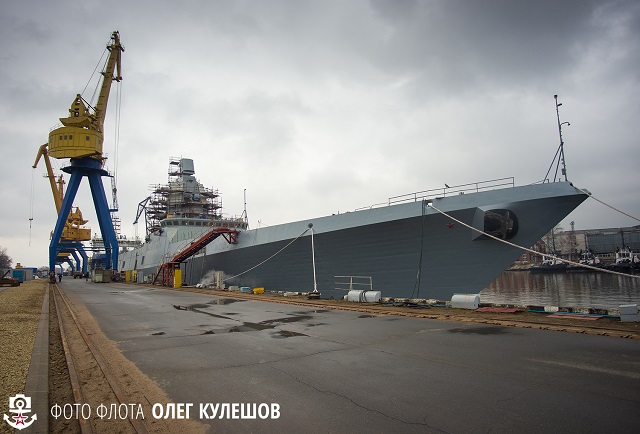 The second project 22350 frigate "Admiral Kasatonov" at the Severnaya Verf Shipyard. Picture by Oleg Kuleshov via bmpd.livejournal.com

"Most of the basic equipment has been installed, electric cables have been laid and electric equipment and special hardware, including the main attack system, have been fitted. The workers are completing the alignment of the main engines, gearboxes, gas turbines and shafting afloat. The outfitting of the crew's quarters and service rooms is under way,"
the press office said in a news release.
It added that Severnaya Verf was conducting the dock trials of the
Admiral Kasatonov
. The customer
"has received 124 manufacturing certificates out of 165 and 64 dock trials certificates out of 245,"
an employee of the shipyard added.
The ship's weapons suite comprises the advanced 130-mm A-192 automatic gun and antiship, antisubmarine and air defense missile systems, including the Kalibr (NATO reporting name: SS-N-27 Sizzler) and Redut-Poliment. She can carry a Kamov Ka-27 (Helix) helicopter or variants.
The Project 22350 lead frigate Admiral Gorshkov is currently undergoing trials with Russia's Northern Fleet, the defense minister said.
Russian Navy Deputy Commander-in-Chief Vice-Admiral Alexander Fedotenkov said earlier that the Navy was planning to receive the new frigate in late 2016.
The Project 22350 frigate Admiral Gorshkov was laid down in early 2006 and put afloat in the autumn of 2010. The ship started undergoing trials in November 2014.
The second Project 22350 frigate Admiral Kasatonov was floated out in 2014.
The third frigate Admiral Golovko is expected to be put afloat in 2016.
© Copyright 2016 TASS. All rights reserved. This material may not be published, broadcast, rewritten or redistributed.


Link to
Admiral Gorshkov (Project 22350) Frigate technical datasheet