a
Maritime Security News - USA
Insitu to provide ScanEagle UAS Services to U.S. Coast Guard
Insitu will provide unmanned aircraft systems (UAS) services via ScanEagle aboard one Coast Guard National Security Cutter (NSC) with three, one-year options following a contract award announcement this week.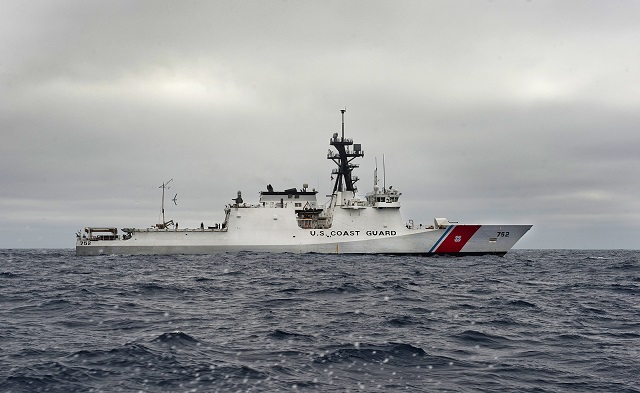 ScanEagle UAS recovers on the deck of USCGC STRATTON during an operational demonstration
Picture: Insitu
The Coast Guard procured the necessary services through a pre-existing multiple award contract executed by Naval Air Systems Command. The initial $4.5-million task order includes operation, integration, maintenance and sparing of a contractor-owned sUAS on one NSC for one year. The task order has a total potential value of $12.3 million that includes options for deployment of and data from prototype sUAS capability for up to three additional years beyond the base year. The Coast Guard will have full ownership of the surveillance data obtained.

The Coast Guard has conducted years of operational demonstrations involving UAS, including ScanEagle. The most recent demonstration utilizing ScanEagle was a multi-partner simulated search and rescue exercise conducted over the Northwest Passage in July 2015. In addition to demonstrating how ScanEagle can maximize the effectiveness of USCG vessels, the exercise also showcased the platform's ability to conduct seamless, concurrent aviation operations with manned aircraft.

During a separate demonstration in partnership with the U.S. Navy aboard the U.S. Coast Guard Cutter BERTHOLF in May 2013, ScanEagle operations spanning nine days yielded two interdictions resulting in the seizure of more than 600 kilograms of cocaine and six detainees who were later prosecuted.

Additional operational demonstrations for the Coast Guard over the last several years have proven ScanEagle as the go-to solution that maximizes the effectiveness of the National Security Cutter for an array of missions spanning from marine protection to drug interdictions and search and rescue operations.

"Insitu is proud to be the first UAS ISR service provider in support of the Coast Guard," said Ryan M. Hartman, Insitu's president and CEO. "ScanEagle's unparalleled record of operations at sea and proven ability to give operators eyes over the horizon will go far in support of the Coast Guard's unique mission sets."

© Copyright 2016 TASS. All rights reserved. This material may not be published, broadcast, rewritten or redistributed.