a
Naval Forces News - Russia
Russian Shipyard continues to build 2nd production Project 12700 Mine Counter Measure Vessel
The Sredne-Nevsky Shipyard (SNSZ, a subsidiary of the United Shipbuilding Corporation) carries on building the second production-standard Project 12700 minesweeper, according to the shipyard's press office.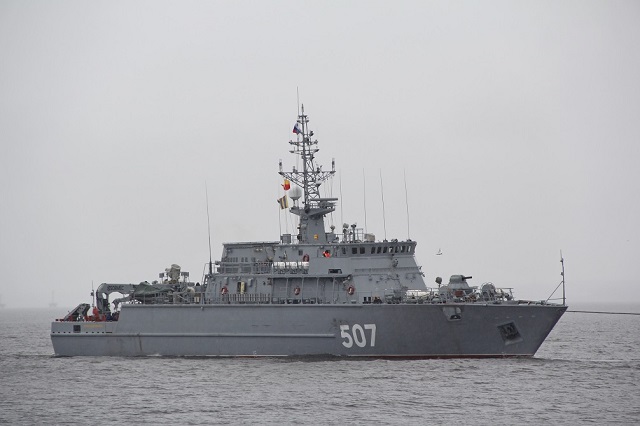 Project 12700 lead Mine Counter Measure Vessel (MCMV) Alexander Obukhov. Picture: Curious / forums.airbase.ru
"The Sredne-Nevsky Shipyard has completed the casting of the hull of the second production-standard minesweeper being built for the Russian Navy. Then, there will be the assembly of the hull and its reinforcing with cross and longitudinal frames, bulkheads and the deck. When the assembly is over, the hull be ready for being taken out of the matrix," the press office said in a news release.

The Sredne-Nevsky Shipyard has plans to build two minesweepers of the class annually starting from 2018. The Russian Navy's overall requirement for ships like that is estimated at 30.

The Project 12700 minesweeper displaces about 900 tons, measures over 60 m long and 10 m abeam and has a speed of 16.5 knots and a crew of 44. The ship can use various sweeps and remote-controlled and self-contained unmanned submersible vehicles.

© Copyright 2016 TASS. All rights reserved. This material may not be published, broadcast, rewritten or redistributed.