a
Naval Defense Industry News - India
DRDO Developed Varunastra Heavy Weight Torpedo Joins Indian Navy
India's DRDO (Defence Research and Development Organization) formaly handed over to the Indian Navy in a ceremony attended by India's defense minister Manohar Parrikar. According to the DRDO, Varunastra is the first indigenous state-of -the-art heavy weight ship launched anti-submarine electric torpedo designed and developed by Naval Science and Technological Laboratory (NSTL), a premier lab of DRDO. It is capable of targeting quiet and stealthy submarines, both in deep and littoral waters in intense countermeasure environment.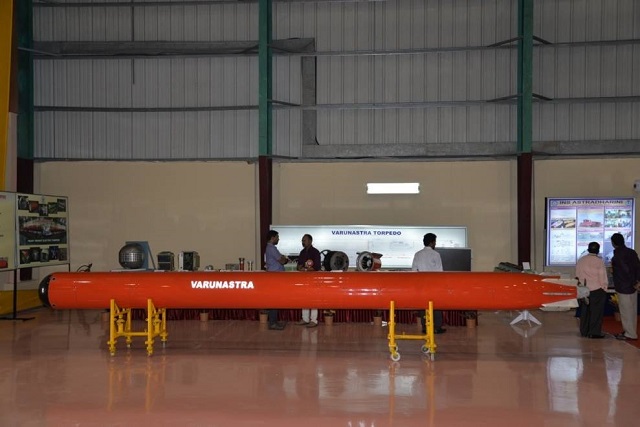 Varunastra is a heavy weight ship launched anti-submarine electric torpedo. Picture: DRDO
Varunastra has been designed with latest technologies such as high speed and long endurance propulsion, software driven intelligence, conformal array acoustic homing with wide look angle and advanced digital signal processing. It is also having advanced autonomous guidance algorithms with low drift navigational aids, insensitive warhead which can operate in various combat scenarios.

Varunastra exercise variant has integrated instrumentation system for recording all the dynamic parameters of the weapon, redundancy in recovery aids in case of emergency shut down or malfunction. It has GPS based locating aid, a unique feature in contemporary torpedoes in the world. Varunastra is extensively tested at sea in association with Indian Navy for evaluating the weapon capabilities as per Naval Staff qualitative requirements. The weapon has completed all environmental qualification tests like shock, vibration, temperature cycling, marine environmental tests, EMI/EMC tests etc.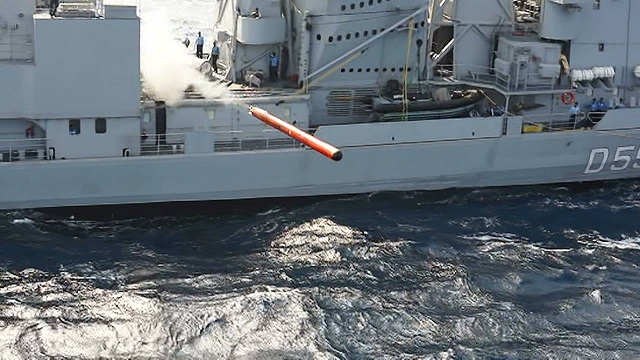 Varunastra test launch from Rajput-class Destroyer INS Ranvijay (D55). Picture: DRDO
This torpedo has been developed with high degree of modularity with more than 95 per cent indigenous content. All the test systems, accessories, special tools and handling equipment are developed simultaneously, enabling smooth maintenance, sourcing of spares, industry support and up-gradation. M/s Bharat Dynamics Ltd. has been associated with NSTL in the development of Varunastra as a production agency.

This is in line with "MAKE IN INDIA" initiative by Hon'ble Prime Minister.

The Varunastra torpedo is set to be fitted aboard:
Kolkata-class, Delhi-class and Rajput-class destroyers as well as Talwar-class frigates and Kamorta-class ASW corvettes.