a
Naval Forces News - France, USA
US Navy CNO met with French Navy Chief in Paris, Gave Award to CVN Charles de Gaulle
On June 24th, the French Navy (Marine Nationale) chief of staff, Admiral Bernard Rogel, welcomed his US Navy counterpart, the Chief of Naval Operations (CNO) Admiral John Richardson in Paris. This visit was an opportunity to highlight the excellent cooperation between the two navies who are conducting joint operations on every seas of the world with an unprecedented level of interoperability.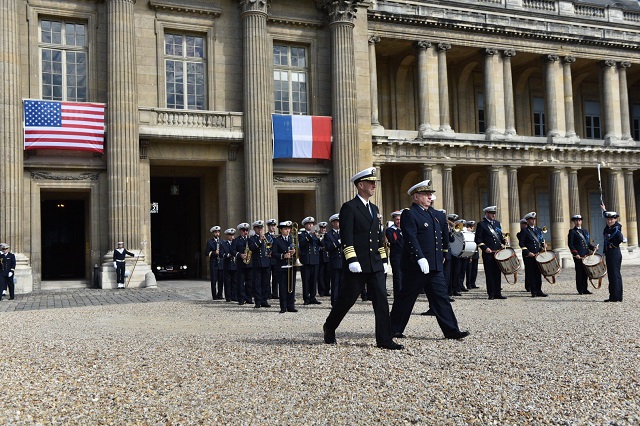 French Navy Chief Adm. Rogel welcomes US Navy CNO Adm. Richardson with a full honors ceremony in Paris
Following an official ceremony at the Ecole Militaire (a vast complex of buildings housing various military training facilities in Paris), the two Admirals went to the French ministry of defense where Admiral Richardson awarded the French Navy's Charles de Gaulle aircraft carrier the prestigious Meritorious Unit Commendation for its contribution to the recent operations against ISIS.

The Meritorious Unit Commendation is very rarely awarded to non-US Navy units.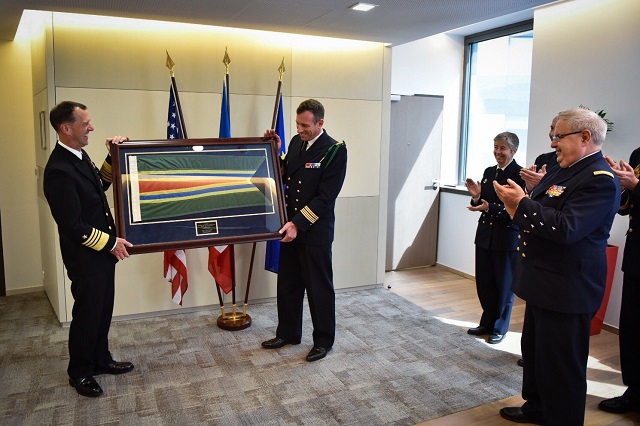 CNO Adm. Richardson presents Meritorious Unit Commendation to French Navy Ship Charles de Gaulle.
The award was presented to Captain Eric Malbrunot, commanding officer of the French nuclear-powered aircraft carrier Charles de Gaulle. While presenting the award, CNO Richardson declared this is "a symbol of how far and how developed our relationship has come."

From December 7, 2015 to March 3, 2016, the Charles de Gaulle served as the command element for U.S. Naval Forces Central Command's Task Force 50 (TF 50). It was the first time this function was entrusted to a non-US admiral and non-US unit.

"This is made possible thanks to the trust between our two navies. This confidence is built through regular and fruitful exchanges that we have, both in training in operations, but also between our commands. Thus we have an extensive network of exchange officers, including pilots, allowing for synergies in the various components of our two navies. We will work to maintain this high level of interoperability, the fruit of many years of joint operations, to continue to face together the challenges of today and tomorrow." said Admiral Rogel.