a
Naval Industry News - Russia
Russia's Project 971 Akula-class Submarine K-175 Vepr to join Navy in 2016 after repairs

The Northern Fleet's K-157 Project 971 nuclear-powered submarine Vepr will join Russia's Navy in 2016 after repairs, the Zvyozdochka Shipyard said in an annual report published on the Corporate Information Disclosure Center's website.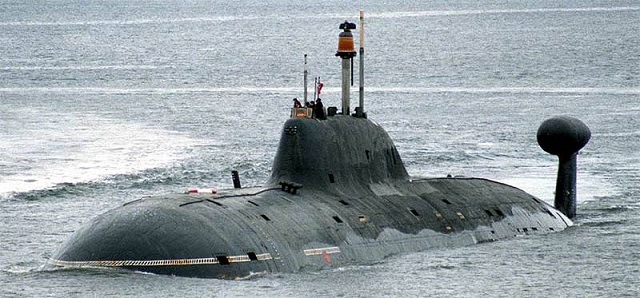 Russian Navy Northern Fleet's K-157 Project 971 nuclear-powered submarine Vepr.
Picture: Ilya Kurganov
The Project 971 (NATO reporting name: Akula-class) nuclear-powered submarine Vepr is armed with missiles and torpedoes. According to the report, the nuclear-powered submarine Vepr has been included in the program of the Nerpa Enterprise, an affiliate of the Zvyozdochka Shipyard.

Next time, the K-157 submarine is planned to be repaired in 3.5 years. It was reported earlier that upgraded Project 971 Bars-class nuclear-powered submarines would be equipped with missiles of the Kalibr (SS-N-27 Sizzler) system.

The Project 971 nuclear-powered submarine is the third-generation submarine designed to hit surface, underwater and ground targets with the use of cruise missiles and 533mm and 650mm torpedoes. The submarine can use 65-76 torpedoes, antisubmarine missile systems and Granat (SS-N-21 Sampson) cruise missiles. The submarine is equipped with a big number of systems, including the MGK-540 Skat-3 sonar. The submarine features a reduced acoustic signature typical for third-generation submarines. This characteristic has brought Russia's Project 971 nuclear-powered submarine close to the US Los Angeles-class submarines.

© Copyright 2016 TASS. All rights reserved. This material may not be published, broadcast, rewritten or redistributed.