a
Naval Forces News - Germany, Poland
German and Polish Navies sign a submarine cooperation agreement
By Stelios Kanavakis - Senior Defence Analyst
The German and the Polish Navy signed an agreement that will lead to the establishment of a joint "Submarine Operating Authority". The latest rapprochement builds on the 1999 military cooperation agreement and the 2013 maritime collaboration agreement.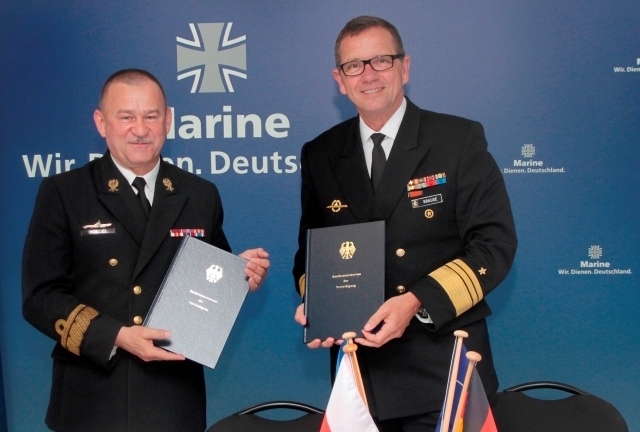 Photo source: Bundeswehr
The task group, which will be called SubOpAuth, will become part of the Maritime Operations Centre. The MOC, located at Glücksburg in Germany, will exercise operational control over the Polish and German Navy submarines. However, each country will retain command of the submarines.
Through the SubOpAuth, the Polish Navy will be able to connect its submarines to the German guidance system, e.g. to the Submarine Broadcast Control Authority of the German Navy.
The Inspectors of the Navies signed the agreement. Read Admiral MiroslawMordel said that he is very proud and happy that years of efforts and preparations have successfully concluded with the bilateral agreement.
Both countries operate the same type of submarines. Germany has a fleet of six TKMS Type 212A and Poland five (one Kilo-class from Soviet Union era and four Kobben-class boats, acquired from the Norwegian Navy). It is expected that the latest agreement could further support a German proposal for the modernization of the Polish Navy with new submarines. Poland is currently considering proposals from Saab, DCNS and TKMS for the Orka submarine programme.
To learn more on Orka: See our
recent video coverage of Balt Military Expo
with interview on A26 (Saab), Scorpene (DCNS) and Type 212A (TKMS) submarine designs.