a
Naval Forces News - France, Malaysia
French Navy FREMM Provence in ASW Exercise With Royal Malaysian Navy in South China Sea
The French Navy (Marine Nationale) latest
Aquitaine class FREMM Frigate
Provence
conducted an anti-submarine warfare (ASW) exercise with the Royal Malaysian Navy on February 16th and 17th. Provence and the
Scorpene class submarine
Tun Razak
conducted the exercise off the Northern coast of Borneo island in the South China Sea.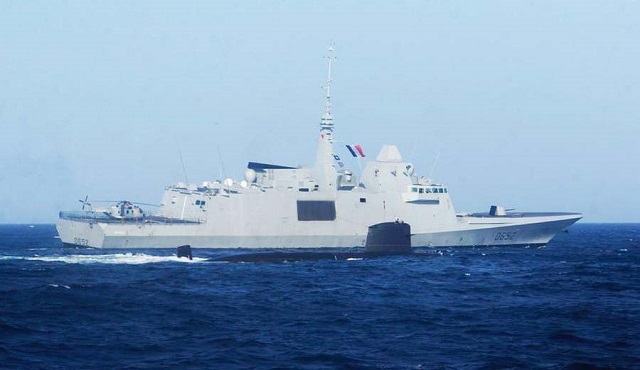 French Navy FREMM Provence sailing alongside Royal Malaysian Navy Scorpene class submarine Tun Razak. Picture: ©Marine Nationale
The submarine and the frigate (both built by DCNS) and the frigate's NH90 NFH helicopter a Cayman 33F flotilla faced each other in several ASW scenarios. This was the first time French and Malaysian units performed this kind of exercise in the South China Sea.
Designed and built by DCNS the Multi-Mission Frigates (FREMM) are a centerpiece of the modernization of the French Navy. They are a game changer in particular with their high technology, versatility and flexibility.
To learn more:
Link to FREMM Frigate (Aquitaine class) technical datasheet