a
Naval Defense Industry News - USA
Lockheed Martin Debuts Upgraded MK 41 VLS Vertical Launching System Production Line
Lockheed Martin officially unveiled an upgraded MK 41 Vertical Launching System (VLS) production line at its Middle River, Maryland facility. The MK 41 VLS program supports more than 150 highly skilled jobs in the Baltimore area and will continue to do so for years to come, thanks in part to a 2014 U.S. Navy contract for continued VLS production valued at $235.3 million.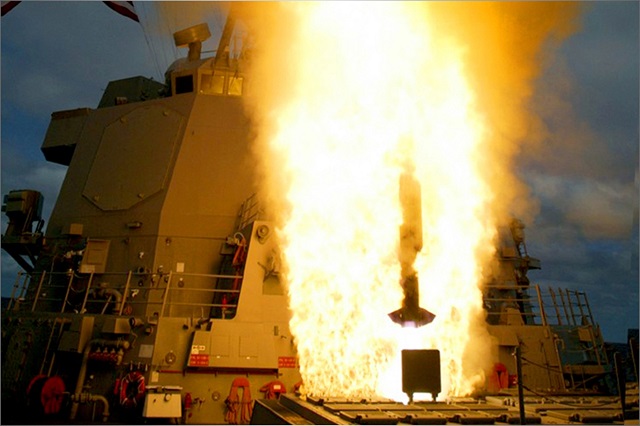 An intercept missile launches from the MK 41 Vertical Launching System (VLS) during a successful Aegis Ballistic Missile Defense flight test in June, 2008. Photo courtesy Missile Defense Agency.
The new production contract allowed Lockheed Martin to design and implement a new, modern production line. As a part of the modernization effort, the team developed more than 80 new tools to optimize production flow and build on the line's more than 30 year on-time delivery record. The modernization became necessary after Lockheed Martin won a contract to reestablish deck and hatch production at its Middle River site after more than 20 years.

"We are proud to continue manufacturing the MK 41 VLS in Baltimore County and bringing this critical capability to the fleets of the U.S. Navy and its allies," said Stephanie C. Hill, vice president and general manager of Lockheed Martin's Ship & Aviation Systems business. "In partnership with the U.S. Navy, we have been delivering, modernizing and supporting the MK 41 VLS system for more than 30 years. We, along with our suppliers in Maryland and all over the nation, look forward to continuing to serve our customer with this critical national defense capability."

The MK 41 VLS is the international launcher of choice for surface ships, providing unparalleled flexibility. It is the only launching system capable launching anti-air, anti-submarine, surface-to-surface and strike missiles and can receive orders from multiple weapon control systems to handle every warfighting mission.

The MK 41 VLS fires a wide range of missiles, primarily off of U.S. Navy cruisers and destroyers. Since the first launcher rolled off of the Lockheed Martin production line in 1984, the systems have been combat proven with more than 3,850 successful firings worldwide and a more than 99 percent success rate. MK41 VLS has been integrated and in service with the U.S. and 12 allied navies on nearly 200 ships representing 20 ship classes.

On Dec. 12, 2014, Lockheed Martin was competitively awarded a $235.3M firm-fixed-price contract for MK 41 VLS electronic and mechanical modules and related equipment. Under this contract which extends through 2022, Lockheed Martin will produce the launch control units, various electrical boxes and the mechanical structure, and perform final assembly and test. The company is also under contract to conduct repairs, distribute, store and manage spare parts for the MK 41 system for the U.S. Navy.