a
Naval Forces News - USA
San Antonio Class Amphibious Transport Dock USS Arlington (LPD 24) Completes 1st Deployment
By Mass Communications Specialist 2nd Class Stevie Tate, USS Arlington Public Affairs
The
amphibious transport dock ship USS Arlington (LPD 24)
returned to its homeport of Norfolk, May 3, following completion of the ship's historic maiden deployment. During the seven-month deployment, the ship completed missions in both the U.S. 5th and 6th Fleet areas of operations, supporting national security interests and maritime security operations.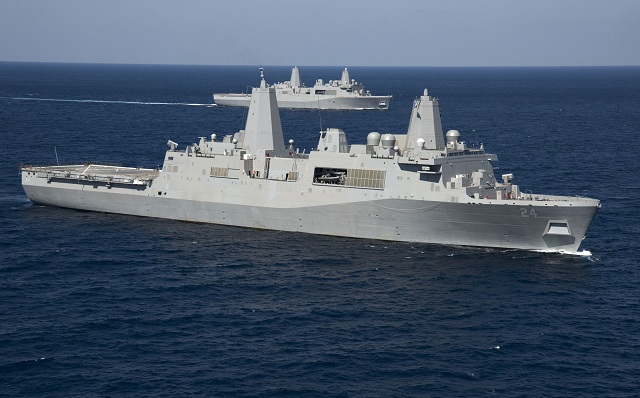 The amphibious transport dock USS Arlington (LPD 24) steams in formation with USS Anchorage (LPD 23) while at sea.
(Picture: Huntington Ingalls Industries)
"The Sailors and Marines of the Arlington team performed superbly on this historic deployment, which not only made a significant impact on regional stability in key maritime areas, but also contributed to global security through our presence and maritime interdiction operations," said Commanding Officer Capt. Sean Bailey. "Arlington's maiden deployment marks the opening chapter in what I'm positive will be a long and outstanding legacy of naval excellence. Each member of the crew should be justifiably proud of their personal contribution to the defense of our nation."
During the deployment, Arlington transited 36,740 nautical miles and conducted port visits in Lisbon, Portugal; Souda Bay, Greece; Eilate, Israel; Aqaba, Jordan; Bahrain; Kuwait; Abu Dhabi, U.A.E.; and Marseille, France.
Arlington also hosted a reception celebrating the 25th anniversary of Kuwait's liberation from the forces of Saddam Hussein.
"I feel like we accomplished so much as a crew," said Personnel Specialist 3rd Class Raul Florencio. "For my first deployment I had the chance to see so many new countries and witness extraordinary events right here on the ship. It has been an amazing journey and one I will never forget!"
Throughout the historic deployment, the ship qualified more than 150 personnel as enlisted surface warfare specialists, more than 60 information warfare specialists, and three surface warfare officers.
Arlington's maiden deployment was completed with a crew of largely junior Sailors on their first enlistment, along with a handful of plankowners that have been with Arlington since the ship began construction in Pascagoula, Mississippi.
"Being a plankowner and having the opportunity to complete the ship's first deployment has truly been an amazing part of my career," said Gunner's Mate 2nd Class Joshua Dean. "Watching as this ship has been built, the training of the crew, the completion of work-ups and now completing its first deployment, has truly been an incredible experience. I couldn't be prouder to be a plankowner and be part of this crew."
Many members of the crew beamed with pride over completion of this successful deployment as they reunited with their loved ones.
"Not many in this profession ever forget their first deployment, and even those with numerous deployments over long careers will have a very hard time forgetting this maiden deployment of Arlington," said Command Master Chief Brian MCDonough. "Every Sailor and Marine on the ship performed their duty to the utmost of their ability, with the skill, pride, and professionalism that we as Americans have come to expect of our military, and these are the only reasons why this ship has successfully completed her first deployment. I cannot be more proud of this crew and the families that support every Sailor and Marine on board. Welcome home Arlington!"