a
Naval Industry News - Russia
Almaz Shipyard launched Rubin-class Patrol Boat (Project 22460) Provorny for Russia Border Guards
On May 6, 2016, the Almaz Shipyard in St. Petersburg launched the Severnoye Design Bureau-developed Project 22460 Rubin-class patrol boat (serial number 506) it has been building for the Border Guard of Russia's Federal Security Service (FSS).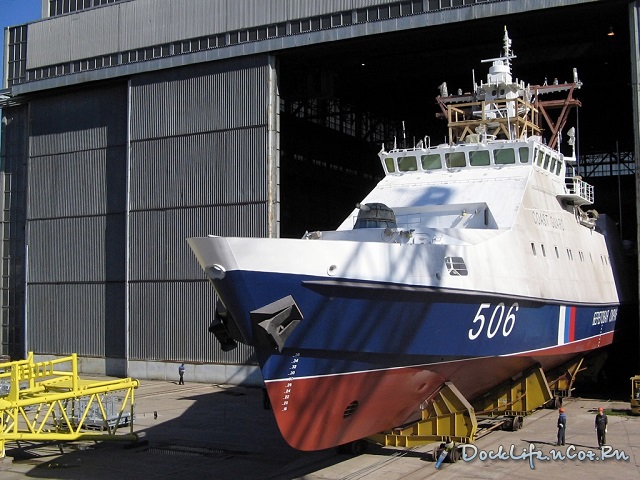 Project 22460 Rubin-class patrol boat Provorny launched at Almaz Shipyard in St. Petersburg.
Picture: docklife.ucoz.ru
Almaz is building the Provorny under two government orders placed by FSS in November 2013 for three more Project 22460 escort ships serialed 506, 507 and 508 and to be delivered by late 2017. The shipyard laid the keels of the escort ships with serial 506 and 508 on June 27, 2014 and the one serialed 507 in late 2014.

The Almaz Shipyard has built five Project 22460 ships to date. The lead ship, the Rubin (serial 501), was completed in 2009 and commissioned for service with the FSS Border Guard Black and Azov Seas Directorate on May 12, 2010. The shipyard also has built the same-class escort ships Brilliant (serial 502, delivery date - on June 26, 2012), Zhemchug (serial 503, September 21, 2012), Izumrud (serial 504, June 27, 2014) and Ametist (serial 505, October 3, 2014).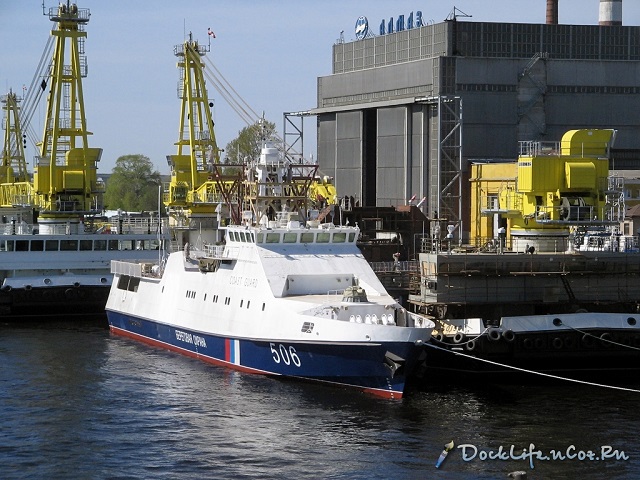 Project 22460 Rubin-class patrol boat Provorny launched at Almaz Shipyard in St. Petersburg.
Picture: docklife.ucoz.ru
In November 2014, FSS awarded Almaz a follow-on order for three more Project 22460 escort ships (serial 509, 510 and 511) worth a total of 7.58 billion rubles ($114 million) and intended for basing in Novorossiisk. The first of the three ships is due by December 2017 and the other two by December 2018. The ships serialed 509 and 510 were in the final stages of construction as of early 2016.

The Vostochnaya Verf Shipyard in Vladivostok is building Project 22460 patrol ships too. The first Project 22460 ship it built, the Sapfir (serial 300), was accepted by the FSS Border Guard Primorsky Territory Department on May 28, 2015 and the second one, the Korall (serial number 301), on December 17, 2015. FSS and Vostochnaya Verf signed a 2.374-billion-ruble ($36 million) contract for the third ship in the series (serial 302), which the shipyard is to deliver by December 2017.

Thus, the overall number of the built or ordered Project 22460 escort ships has totaled 14 to date, and the Provorny has become the eighth ship in the class.

The Project 22460 escort ship is designed to guard the nation's maritime border, patrol the 12-nautical-mile territorial waters and tackle other tasks. Her features include a helipad to receive light helicopters. She also is supposed to be furnished with an S-100 Gorizont unmanned aerial vehicle. The ship has a displacement of 690 tons, a length of 62.5 m, a full speed of 30 knots and a cruising range of 3,500 nm. She carries an AK-630 small-caliber antiaircraft gun and two KORD heavy machineguns. At the customer's request, the ship can be fitted with a 57-mm A-220M automatic gun.

© Copyright 2016 TASS. All rights reserved. This material may not be published, broadcast, rewritten or redistributed.