a
Naval Industry News - France, Canada
Thales to Supply Electronic Systems for Three Canadian Coast Guard OFSV Vessels
On March 24th, Thales in Canada signed a $35M (CAD) contract with Seaspan's Vancouver Shipyards (VSY), regarding the electronic systems for the construction of the Canadian Coast Guard's (CCG) three Offshore Fisheries Science Vessels (OFSV) under the National Shipbuilding Strategy (NSS). Seaspan recently announced the start of production on the second OFSV. In the meantime, significant progress continues on the first OFSV with 37 of 37 blocks currently under construction.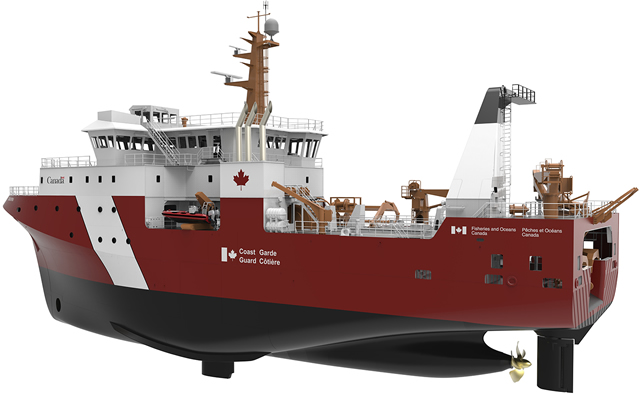 OFSV Rendering. Picture: Thales
This is an important step that shows Thales' commitmentto NSS and continued success in developing maritime business in Canada. Thales in Canada has been under contract for the initial phases of the OFSV project since 2013 and is also under contract with Seaspan for initial phases of the Offshore Oceanographic Science Vessel (OOSV) for the CCG and the Joint Support Ships (JSS) for the Royal Canadian Navy. As a Tier 1 partner of VSY, Thales is responsible for the selection, procurement and integration of the electronic systems and equipment on the vessels being constructed, including radar, communications, bridge and mission systems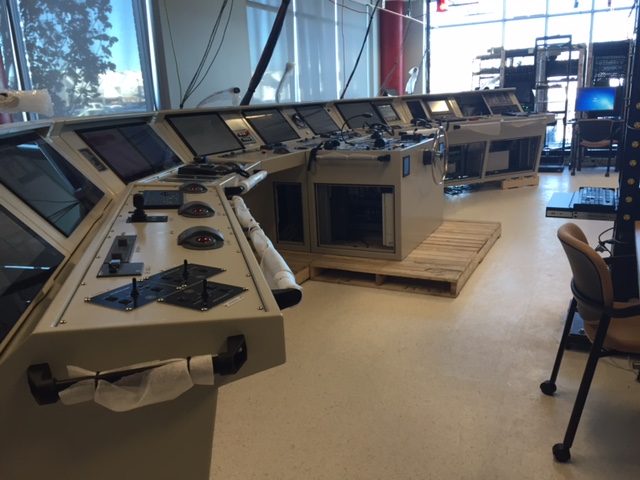 OFSV Integrated Bridge Consoles. Picture: Thales
"Seaspan is full-steam ahead on the production and delivery of its first two National Shipbuilding Strategy (NSS) Non-Combat vessels, and we are pleased and excited to partner with Thales' world-class team of experts," said Brian Carter, President - Seaspan Shipyards. "Today's announcement is not only a strong reminder of the progress being made under the NSS, but also of the imp act it is having, continuing to increase opportunities for Canadian companies and creating jobs for Canadians."

The steady stream of stable revenue that this project is providing has allowed Thales to invest in research and development to increase the efficacy of the systems that it installs and integrates onto CCG and RCN vessels. Thales in Canada officially opened a new maritime lab in its Ottawa offices in December 2015, in the presence of Pierre Eric Pommellet, EVP Defence Mission Systems. This systemsintegration and test facility will support the integration of electronic systems for the Canadian Coast Guard vessels. This infrastructure is a key capability for the Thales NSS work, but can also be leveraged in future projects
making Thales more competitive, both within Canada and internationally.