a
Naval Forces News - South Korea
South Korea's DAPA Selects HHI for KDX-III Batch II Destroyer Design & Construction
South Korea's Defense Acquisition Program Administration (DAPA) announced last week that Hyundai Heavy Industries (HHI) was selected as contractor for "KDX-III Batch-II Design and construction of the first hull". The existing
7,600-ton KDX-III Batch I Aegis destroyers
of the Republic of Korea Navy (ROK Navy) are based on the
DDG 51 class
of the US Navy.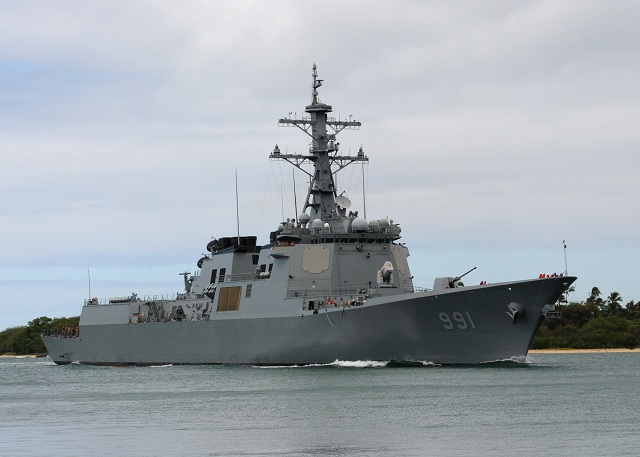 Republic Of Korea Ship Sejong the Great (DDG 991), head of KDX-III Aegis destroyer class
(U.S. Navy photo)

In December 2013, South Korea's Joint Chiefs of Staff decided to increase the number of Aegis destroyers from the current three to six by 2027 to strengthen its maritime combat capabilities against possible provocation from the Democratic People's Republic of Korea (DPRK).

While all three destroyers of the second batch will likely not be build by HHI (most ROK Navy orders are split between HHI and DSME the two largest Korean naval shipyards), the Batch II will be designed by Hyundai. Delivery timetable is 2021 for launch of first ship after keel laying in 2020.

According to early information and rumors, KDX-III Batch-II will feature Hybrid-Electric Drive (HED) and BMD 5.1 system. Depending on export agreements, the vessels may receive gallium nitride technology radar components from Japan. The new class will also benefit from an improved electronic warfare suite (Sonata Next Generation), enhanced stealth features and indigenous hull-mounted sonar and active towed aray. Finally, KDX-III Batch-II may be the first South Korean vessel class to be fitted with directed energy weapons (not initially but as part of an upgrade).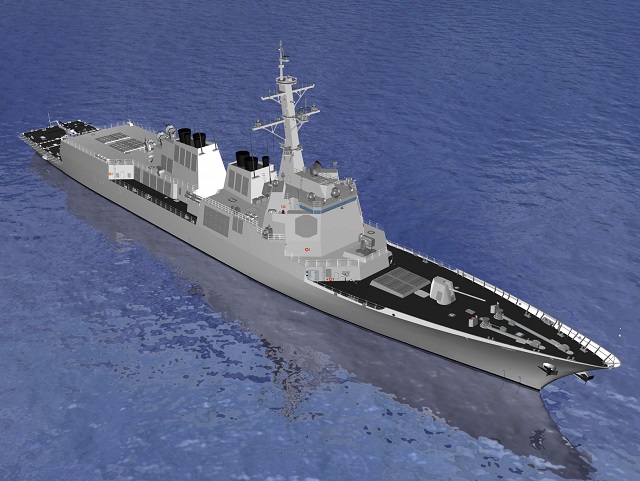 CGI of KDX-III Batch I. Image courtesy of DSME

KDX-III Batch-II will be succeeded by the KDDX class, a fully South Korean design which
DSME has already showcased during defence exhibitions.
Partially designed by the South Korean Ministry of National Defense, built by Hyundai Heavy Industries and Daewoo Shipbuilding & Marine Engineering, the Sejong the Great class Destroyers are the largest surface combatants in the Republic of Korea Navy. The 3 vessels of the class were built as part of the KDX-III project to strengthen ROK Navy defense against North Korea and other emerging threats as well as provide the ROK Navy with true blue water, ocean going capabilities. They pack an impressive 16x anti-ship missiles and a total of 128 VLS cells!
Link to KDX-III Aegis Destroyer technical datasheet