a
Naval Forces News - China
PLAN Latest Type 052D Destroyer Hefei Conducted its First Exercise in South China Sea
A People's Liberation Army Navy (PLAN or Chinese Navy) taskforce belonging to the South Sea Fleet conducted a round-the-clock anti-submarine warfare exercise in waters of the South China Sea from May 25 to 26. The taskforce entered the South China Sea via the Bashi Channel after conducting maritime drills in the West Pacific.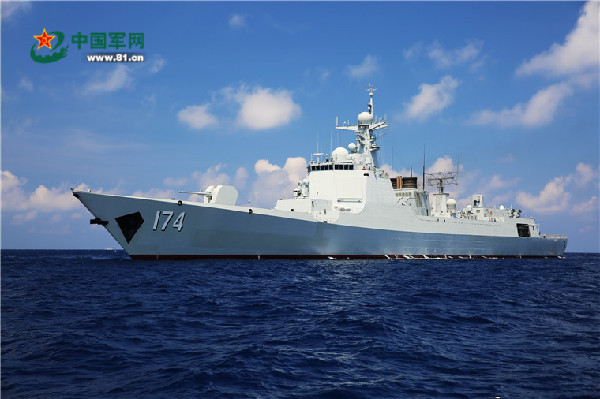 PLAN's Type 052D guided-missile destroyer Hefei in ASW training exercise in the South China Sea on May 26, 2016. PLAN picture.

According to the backgrounds of the drill, submarines of the "blue army" quietly reached out and arrived at the sea area of the "red army", and warships of the "red army" in an anti-submarine formation performed sector search in this water for the submarines.
The anti-submarine force of the "red army" consisted of four surface warships, namely:
- Type 052D guided-missile destroyer Hefei (hull number 174)
- Type 052C guided-missile destroyer Lanzhou (hull number 170)
- Type 052B destroyer Guangzhou (hull number 168)
- Type 054A guided-missile frigate Yulin (hull number 569)
The submarines came from a submarine flotilla under the South Sea Fleet.
This is the first deployment for Hefei, the latest Type 052D destroyer inducted into the PLAN. Hefei was
commissioned on December 12 last year
with China's South Sea Fleet.
The Type 052D Kunming class (Nato designation: Luyang III) is the latest generation of guided-missile destroyer (DDG) of the Chinese Navy. It is based on its predecessor, the Type 052C DDG and likely shares the same hull. However the Type 052D incorporates many improvements in terms of design as well as sensors and weapons fit. This new class of vessel is considered as the Chinese equivalent to the American AEGIS destroyers.
Link to Type 052D Kunming Class Destroyer technical datasheet