a
Naval Forces News - Russia
Russia Launched its 6th Project 636.3 SSK Submarine Kolpino for Black Sea Fleet
The sixth Project 636.3 diesel-electric submarine Kolpino designed for the Russian Black Sea Fleet has been put afloat at the Admiralty Wharves Shipyard in St. Petersburg in northwest Russia, a TASS correspondent reports from the scene.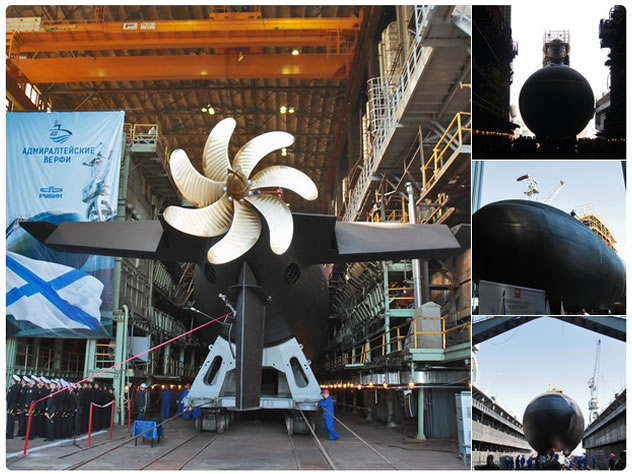 Launch of the sixth Project 636.3 diesel-electric submarine Kolpino. Picture: Russian MoD

"It is a big day for the Navy, St. Petersburg and the country today. The ceremony of floating out the vessel is a truly national event," Russian Navy Deputy Commander-in-Chief Vice-Admiral Alexander Fedotenkov said. "The Admiralty Wharves Shipyard is really the leading enterprise in Russia's shipbuilding. You build ships in a proper manner and deliver them on time," he added.

Head of Russia's Rubin Central Design Bureau for Marine Engineering Igor Vilnit wished the submarine's crew good service and said that designers would do their best to maintain Project 636.3 submarines in good condition.

The submarine Kolpino will be the final submarine in a series of six Project 636.3 diesel-electric submarines currently under construction for the Russian Navy. Four Project 636.3 diesel-electric submarines have already been made operational with Russia's Black Sea Fleet.

The Project 636.3 lead submarine Novorossiysk was delivered to the Russian Navy in August 2014. The Russian Navy received the second Project 636.3 submarine Rostov-on-Don on December 30, 2014. In late 2015, the submarine Rostov-on-Don launched Kalibr (NATO reporting name: SS-N-27 Sizzler) cruise missiles from the Mediterranean Sea to destroy facilities of the Islamic State terrorist organization (outlawed in Russia) in Syria.

The third Project 636.3 submarine Stary Oskol joined the Russian Navy in July 2015. The fourth Project 636.3 submarine Krasnodar was delivered to the Navy on November 5, 2015. The fifth Project 636.3 submarine Veliky Novgorod designed for the Black Sea Fleet was floated out on March 18. The fifth and the sixth Project 636.3 submarines are planned to join the Black Sea Fleet this year.

© Copyright 2016 TASS. All rights reserved. This material may not be published, broadcast, rewritten or redistributed.