a
Naval Forces News - Russia
Russian Navy to fit Project 22800 Corvettes with Pantsir-M Air Defense Missile/Gun System
Small missile boats of project 22800 (code Karakut) will be armed with Pantsir-M missile and gun anti-aircraft complex, Director General of Almaz Design Bureau Alexander Shlyakhtenko told reporters.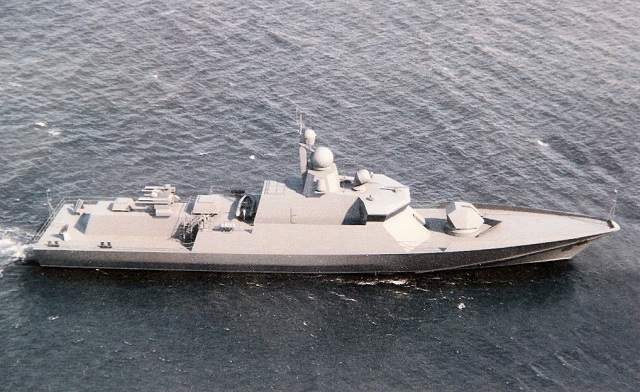 Artist impression of Project 22800 Corvette. Image via BMPD / Curious / forums.airbase.ru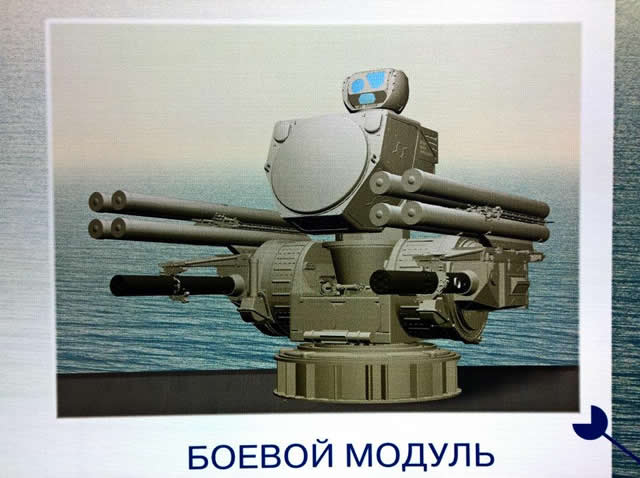 Pantsir-M Project as showcased by KBP during IMDS 2015 maritime defense exhibition in St Petersburg. Image via BMPD/
Michael Zherdev

"The lead warship will be commissioned in 2017 and the new air defense system will come in 2018. Everything has been designed. Pantsir will begin with the third warship and further on. We are currently testing it as there has been no seaborne option before. We are testing it in the Black Sea. If it performs properly it will be serially installed beginning from the third warship,"
he said.
The Russian Navy is to receive 18 small missile boats of project 22800. They are built at the Pella enterprise in Leningrad region and More shipyard in Feodosia. The Gorky Shipyard in Zelenodolsk in Tatarstan received an order for another five ships.
It was earlier reported that Pantsir-M will begin to arrive in the Navy in 2017 and the first to receive it will be heavy nuclear missile cruiser Admiral Nakhimov which is undergoing modernization. It was also reported that serial production of Pantsir-M has already begun. It is to replace outdated Kortik complex, designers said.
© Copyright 2016 TASS. All rights reserved. This material may not be published, broadcast, rewritten or redistributed.
Navy Recognition Comments:
The Pantsir-M is based on the land based Pantsir-S1, but has a different artillery system- as can be seen on the above pictures, including two GSh-6-30K / AO-18KD 30mm six-barrel guns as found on the Kasthtan CIWS. Pantsir-M also comes with an additional radar system, separate from the one fitted ontop of the turret itself.
The land based Pantsir-S1, produced by Russia's KBP is a gun-missile system combining a wheeled vehicle mounting a fire-control radar and electro-optical sensor, two 30-mm cannons and up to 12 57E6 radio-command guided short-range missiles, and is designed to take on a variety of targets flying at low altitudes. Link to Pantsir-S1 technical datasheet