a
Indodefence 2016 Naval News - Tank Boat
PT Pindad, PT Lundin & CMI Defence unveil innovative Tank Boat design at Indodefence 2016
PT Pindad, PT Lundin and CMI Defence are presenting the full versatility and lethality of their X-18 Tank Boat® concept at Indo Defence 2016 for the first time. The Tank Boat® incorporates the CMI Defence Cockerill® 3105 high pressure 105mm weapon system aboard an advanced composite catamaran hull specifically designed by PT Lundin. It provides navies and coastal forces with unmatched capability.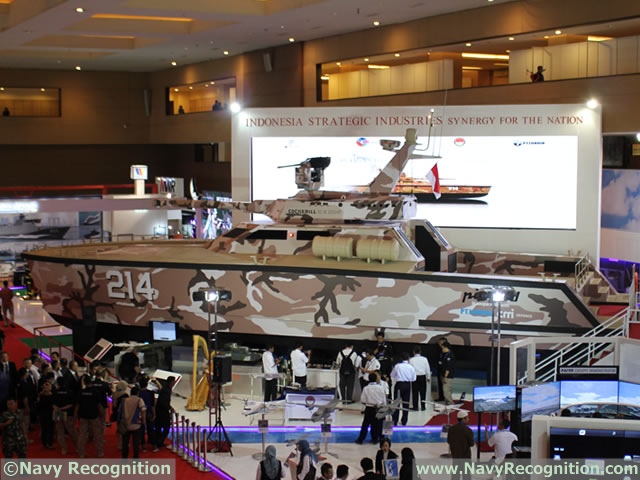 The Tank Boat unveiled at Indodefence 2016
The lethality of the Cockerill® 105mm gun combined with the maneuverability, speed and stealth of the platform give the Tank Boat® a peerless capability to operate unrestricted in the littoral environment. During the exhibition, the three partners are scheduled to introduce the concept to official delegations from the Indonesia's armed forces and other countries in the region.

John Lundin, President of PT Lundin: "We're delighted to see that there is already interest both within and beyond the local region in the acquisition of the Tank Boat®. Working with CMI Defence and PT Pindad on this project is particularly exciting for our teams."

Jean-Luc Maurange, President of CMI Defence: "The Tank Boat® concept represents a revolution in thinking about littoral security. This development contributes to CMI Defence remaining at the forefront of technological developments, always going ahead of customers' needs."

Patrick Ledig , Vice president Indonesia: " the Tank boat fills the gap between blue water activity and land activity, for the first time Tank Boat gives operators a versatility that has only been dreamt of before. The Tank Boat will make history for sure…"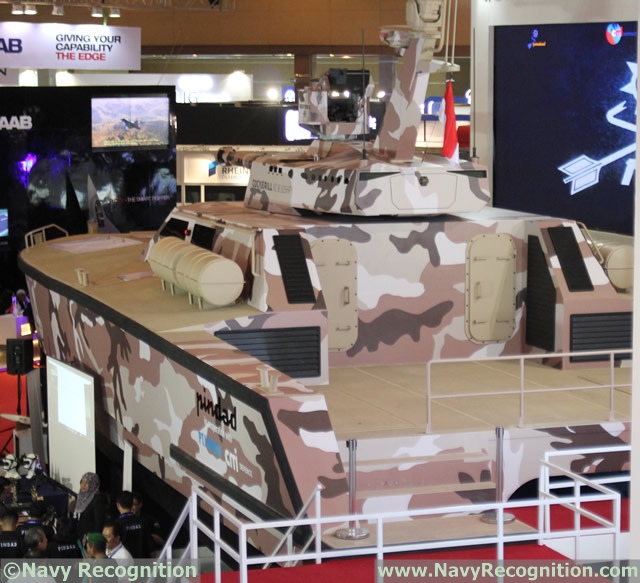 The Tank Boat is fitted with a
Cockerill 3105 high pressure 105mm turret
It is the first time that Belgian company CMI Defence adapts one of its turrent for a naval application. Talking to Navy Recognition, Jean-Luc Maurange explained that the biggest challenge was not the stabilization of the turrent but rather its navalization. To adapt the
proven Cockerill 3105 high pressure 105mm weapon system (already fitted for example on 8x8 IFV), CMI had to apply an anti-corrosion coating, fit additional sealing gaskets and use marine specific cables and connectors.

According to PT Lundin, the X18 Tank Boat is an innovative, fast, stealthy, and highly maneuverable catamaran design that provides a stable weapons platform for close-in and long range direct fire support in normally inaccessible coastal and riverine environments. The X18 features a catamara hull made of infused vinyl ester composite. It has a length overall of 18.00m, beam of 6.10m and draught of 1.00m. Propulsion is achived via 2 x MAN 1200HP engines and 2 x MJP450 Waterjets. The crew consists of 6 persons with accomodation for 20 fully equipped troops. Maximum speed is 40 knots.

The Tank Boat showcased at Indodefence 2016 is fitted with a BAE Systems Bofors LEMUR remote weapon station, 2x PASEO electro-optic systems by Safran (Sagem) including one on the LEMUR RWS, and a navigation radar by Transas. All these systems are fitted on top of the 105mm turret.

Video: Tank Boat at Indodefence