a
Indodefence 2016 Naval News - DCNS Press Release
DCNS present at IndoDefence 2016 from 2 to 5 November in Indonesia
For the second time, DCNS participates in IndoDefence. The seventh edition of this International Defence exhibition is held at Jakarta in Indonesia from 2 to 5 November 2016. In the submarines area, DCNS proposes the multipurpose sea proven Scorpene® class submarines.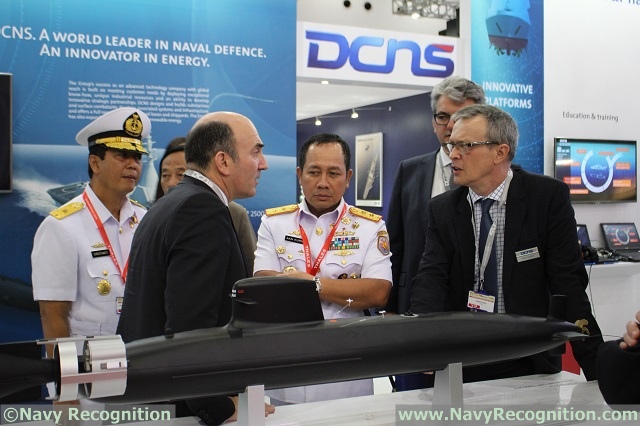 Officials visiting the DCNS stand at Indodefence 2016
The Scorpene® submarine is designed to fulfil the entire scope of missions of modern multipurpose submarines and is fully adapted to operate, taking into account the various operational and environment conditions of Indonesian waters, in both blue waters and shallow waters.

Scorpene class submarines, already chosen by the Chilean, Royal Malaysian, Indian and Brazilian Navies, represent the state-of-the-art in submarine design and construction.

DCNS proposes also its Gowind® 2500, the new generation of powerful surface combatant vessels, robust and well equipped, both in terms of electronics, weapons and projection capacities, with high capacity in antisubmarine warfare.

DCNS highlights its offers in Services. First DCNS provides a wide range of support services during the entire lifecycle of both surface ships and submarines. DCNS also offers a complete set of courses and solutions designed to train all levels of naval and industrial personnel. And finally, DCNS proposes services in naval bases and shipyards from the design, engineering, construction, and operation to the maintenance of these infrastructures.

Finally, DCNS presents its offers in Marine Renewable Energies and presents a water turbine model. Water turbines, floating wind turbines and marine heat energy power stations are the three products in use or in development proposed by DCNS. These products are an answer to the current global context, where there is an increasing urgent need for alternative energies.

DCNS selected by Australian Government and shortlisted by the Norwegian Government

DCNS has been chosen by Australian government as its strategic partner for the next 50 years for the realisation of the submarines of the future submarines program. The first operational contract signed at the end of September is meant to launch program activities between the Australian government and DCNS.

The Group has also been shortlisted this year by the Norwegian Ministry of Defence as one of the two potential candidates for the replacement of its submarine fleet.