a
Naval Forces News - Russia
Russian Navy Marshal Ustinov Cruiser Undergoes Final Tests in White Sea
The Marshal Ustinov missile cruiser of project 1164 is undergoing final test trials in the White Sea and will be handed over to the Northern fleet, spokesman of the fleet Captain 1st rank Vadim Serga told reporters. The press service of the Severodvinsk-based Zvezdochka Shipyard which modernized the cruiser earlier said the warship sailed out for seagoing tests on October 30. The Marshal Ustinov is scheduled to sail to its home port of call in the fourth quarter of 2016.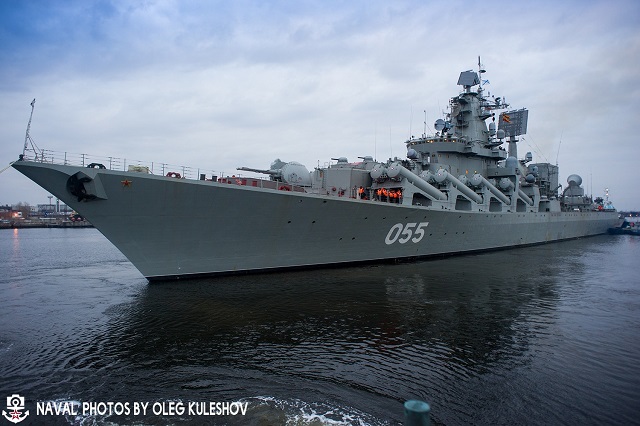 Marshal Ustinov missile cruiser in sea trials. Picture via kuleshovoleg
"At present the crew of the cruiser under the command of Captain 1st rank Sergei Alantyev together with Zvezdochka experts and representatives of contractors are carrying out a program of seagoing tests in the White Sea. After a thorough check of all systems and mechanisms in real sea conditions the upgraded cruiser will be handed over to the Northern fleet," Serga said.
The Zvezdochka Shipyard began to restore technical readiness and upgrade the Marshal Ustinov missile cruiser in 2011. "During the time a program of dry dock works was completed, main engines and accompanying systems as well as general onboard systems repaired, mainline cables checked and faulty sections replaced. The main radio-electronic warfare complex of the cruiser was upgraded," the spokesman said.
© Copyright 2016 TASS. All rights reserved. This material may not be published, broadcast, rewritten or redistributed.