a
Naval Industry News - USA
Future USS John Finn (DDG 113) 1st Restart Arleigh Burke Destroyer Completes Acceptance Trials
The future USS John Finn (DDG 113) successfully completed acceptance trials and returned to Pascagoula, Miss. Nov. 3. Acceptance trials are the last significant milestone before delivery of the ship to the Navy later this year. During acceptance trials, the ship and its crew performed a series of demonstrations for review by the U.S. Navy's Board of Inspection and Survey (INSURV). These demonstrations are used by INSURV to validate the quality of construction and compliance with Navy specifications and requirements prior to delivery of the ship to the U.S. Navy.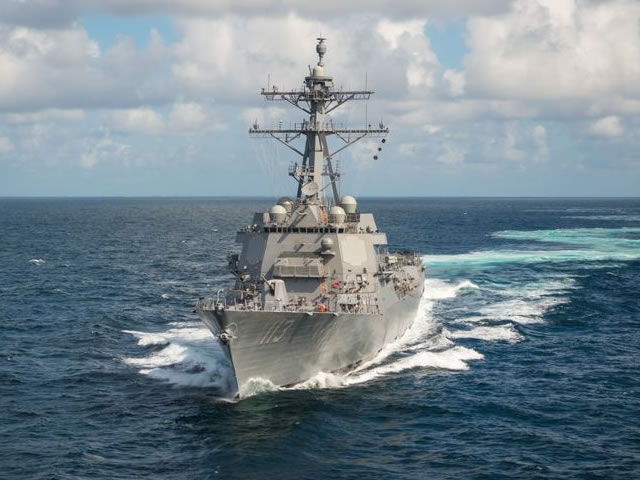 Ingalls Shipbuilding's 29th Arleigh Burke (DDG 51) destroyer John Finn (DDG 113) sails the Gulf of Mexico during Alpha sea trials. Photo by Lance Davis/HII
The tests were conducted pier-side and while underway to ensure successful and functional operation of all the ship's onboard systems including navigation, damage control, mechanical and electrical systems, combat systems, communications, and propulsion applications. Completion of the trial process is a significant milestone in delivering a critical warfighting capability to the Fleet.
"This has been an extremely rigorous set of trials, and I am confident that we will deliver a highly capable warfighting platform to our Sailors and the fleet," said Capt. Casey Moton, DDG 51 class program manager, Program Executive Office Ships. "John Finn's performance as the first restart ship has been exemplary, and we're looking forward to maintaining that high quality of construction and performance as we continue to build and deliver Arleigh Burke destroyers."
John Finn (DDG 113), the first restart DDG 51-class destroyer in sea trials. Video: HII
John Finn is the 63rd Arleigh Burke (DDG 51) class destroyer and the first of the DDG 51 Flight IIA restart ships. Also in production at Huntington Ingalls Industries Pascagoula shipyard are future destroyers Ralph Johnson (DDG 114), Paul Ignatius (DDG 117), Delbert Black (DDG 119) and Frank E. Petersen Jr (DDG 121). Two additional destroyers are under contract as part of the five-ship multi-year procurement for FY13-17. Another seven Arleigh Burke class destroyers are either under construction or contract at General Dynamics' Bath Iron Works shipyard in Bath, Maine.

Arleigh Burke-class destroyers are capable, multi-mission ships and can conduct a variety of operations, from peacetime presence and crisis management to sea control and power projection, all in support of the United States' military strategy. The guided missile destroyers are capable of simultaneously fighting air, surface and subsurface battles. The ship contains myriad offensive and defensive weapons designed to support maritime defense needs well into the 21st century.