a
Naval Forces News - Myanmar
Myanmar Navy Latest Corvette UMS Tabinshwehti Likely Operational
A rare picture surfaced showing Myanmar's navy latest surface combattant, UMS Tabinshwehti (hull number 773) fully completed. The vessel is named after the Burmese king Tabinshveti, who ruled in 1531 - 1550 years, the founder of the dynasty of Tonga. It was built at the Myanmar Navy Yard in Sinmalaike and launched in November 2014. It is likely operational and commissioned as of today.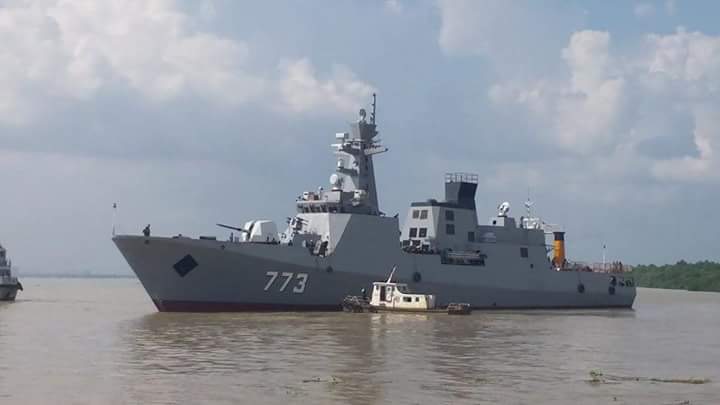 The New Corvette Tabinshwehti (hull number 773), built for the Myanmar Navy. Picture via aagth1.blogspot.com
The corvette features a modern design with stealth lines. It is fitted with the typical mix of Chinese and North Korean weapons and systems as found aboard other modern Myanmar navy surface combattants. No official figures are available for the class but characteristics are estimated to be around 1,200 tons for the displacement and 80 meters for the length.
Previously, the Myanmar naval shipyard in Sinmalaike built two relatively simple Anawrahta-class corvettes (hull number 771) and Bayinnaung (772). They were commissioned in 2001-2003, and then three more frigates were built featuring improved designs - F 11 Aung Zeya (commissioned in 2011), F 12 Kyan Sittha (2014) and F 14 Sin Phyu Shin (in late 2015).