a
Naval Forces News - Russia
Russian Navy second project 23120 combat logistics ship floated in Petersburg
The Vsevolod Bobrov combat logistics ship became the second vessel of project 23120 to be floated by the Northern Shipyard in St. Petersburg, TASS correspondent reported. "We made a present to ourselves today by completing one of the construction stages of the Vsevolood Bobrov for the Russian Navy. I would like on behalf of the Northern Shipyard assure the customer that the vessel will be commissioned on time with excellent quality," said Director General of the shipyard Alexei Seleznev.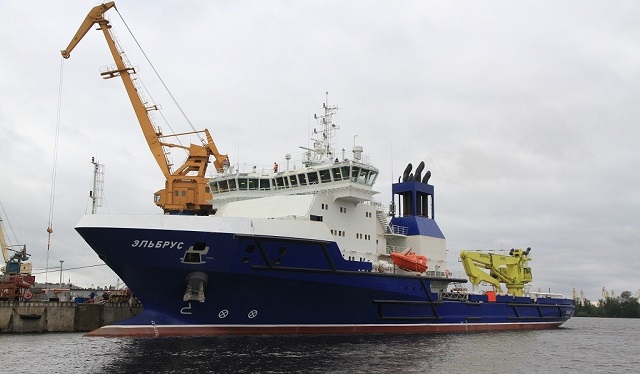 The Project 23120 lead logistic ship Elbrus

Project 23120 ships are designated to load, store, transport and unload dry cargoes on the coast or warships, to tug vessels and provide assistance to their crews. The ARC4 high ice class allows them to operate in the Arctic.
The lead Elbrus ship of the project had its keel laid in 2012 and was to be handed over to the Navy last year, but the contract was not fulfilled. In September the Northern Shipyard said the Elbrus will be passed over to the Navy by the end of 2016. The third vessel of the project, The Captain Shevchenko, had its keel laid in the summer of 2014.
© Copyright 2016 TASS. All rights reserved. This material may not be published, broadcast, rewritten or redistributed.