a
Naval Aviation News - Russia
Video: First Mi-8AMTSh-VA Arctic Helicopter Transferred to Russian Navy Naval Aviation
The first Mil Mi-8AMTSh-VA (NATO reporting name: Hip) helicopter accepted by the Russian Navy shall be fielded with a unit in the Kamchatka Peninsula, Alexei Nikolaichuk, deputy commander for aviation engineering service, Naval Air Station 7060, has told journalists.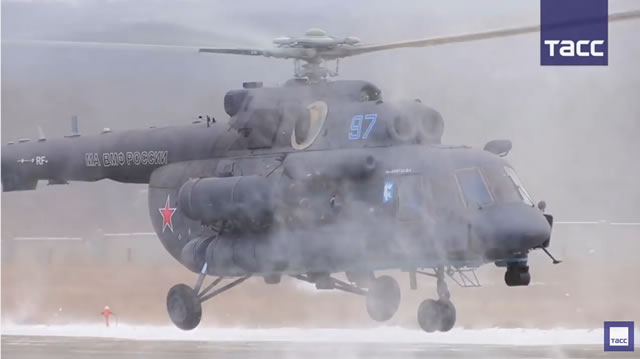 The first Mil Mi-8AMTSh-VA arctic helicopter for the Russian Navy
"Today, we are receiving one of the best Russian-built helicopters. The Mi-8AMTSh-AV will be assigned to the air base in the Kamchatka Territory for operating as part of the aircraft fleet comprising first-generation Mi-8 helicopters," Nikolaichuk said.

Previously, the Ulan-Ude Aircraft Plant (a subsidiary of Russian Helicopters) had delivered the first Mi-8AMTSh-VA arctic version to the air branch of the Russian Navy.
The machine is equipped with the engine quick start system for operations at ambient temperature of -60°C when the aircraft is based autonomously or in the open. It has special heat insulation, a heating system, a ration and water heater and heat insulation curtains as well as sophisticated flight, navigation and communication equipment allowing automatic flying en route and approaching preprogrammed locations.



© Copyright 2016 TASS. All rights reserved. This material may not be published, broadcast, rewritten or redistributed.