a
Naval Forces News - Russia
Sixth Project 636.3 SSK Submarine "Kolpino" Handed Over to the Russian Navy Black Sea Fleet
The sixth diesel-electric Kolpino submarine of project 636.3 for the Black Sea fleet was passed over to the Russian Navy, TASS correspondent reported. St. Andrew's colors were hoisted on the submarine at the Admiralty Shipyard in St. Petersburg where the whole series of the submarines was built for the Black Sea fleet.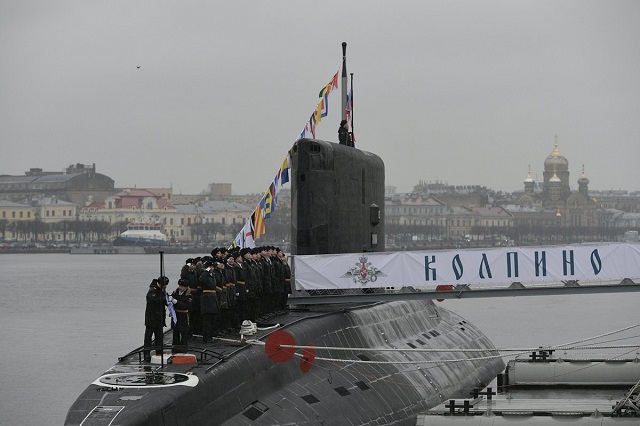 Russian Navy commissioned "Kolpino", the sixth and final Project 636.3 SSK of the Black Sea Fleet.
"Along with the construction of strategic and multipurpose submarines, the Main Command of the Russian Navy pays much attention to the non-nuclear submarine fleet… I am sure the event will go down into the combat history of Russia. Today we completed the construction of a series of submarines for the Black Sea fleet. They will efficiently fulfil missions together with surface ships and seaborne aircraft," Russian Navy Commander-in-Chief Vladimir Korolev said at the ceremony.


The new submarines are highly reliable and have efficient armaments. Korolev recalled that this year the keel of seven new submarines and surface warships was laid.

"The Admiralty Shipyard completed the construction of the Black Sea fleet submarines. The work created a good platform to launch the construction of a series of submarines for the Pacific fleet," said Director of the shipyard Alexander Buzakov.

The sixth diesel-electric submarine of project 636.3 was floated on May 31, 2016. At present the Russian Navy has five submarines of project 636.3. The first two - the Novorosiisk and Rostov-on-Don were passed over to the military in 2014, two others - the Stary Oskol and Krasnodar - in 2015. The fifth Veliky Novgorod was handed over in October 2016.

Submarines of project 636.3 were designed by Rubin bureau. They have a speed of 20 knots, autonomous navigation of 45 days, a crew of over 50 men, surface displacement of over 2000 tons, underwater displacement of close to 4000 tons.
© Copyright 2016 TASS. All rights reserved. This material may not be published, broadcast, rewritten or redistributed.