a
Naval Forces News - Russia
Russia's Northern Fleet receives two Project 21980 Grachonok anti-sabotage boats
Two advanced Project 21980 Grachonok anti-sabotage boats have arrived for Russia's Northern Fleet, fleet spokesman Captain 1st Rank Vadim Serga said. "These are the 11th and the 12th Project 21980 boats. They are currently undergoing running and state trials at the main base of the Northern Fleet's submarine forces in Gadzhiyevo," Serga said.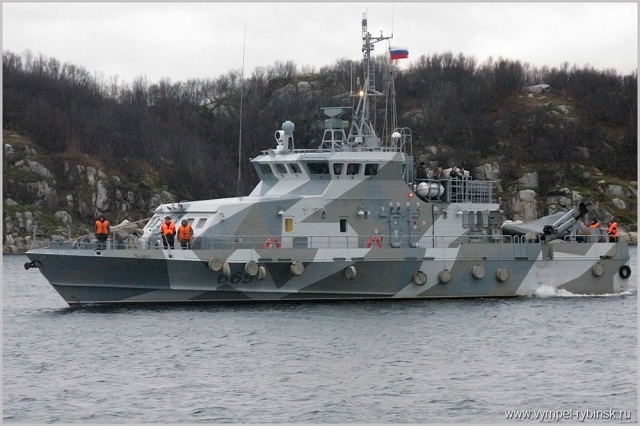 One of the two new Project 21980 abti-sabotage boats for the Russian Navy Northern Fleet. Picture: Vympel
"According to the Northern Fleet, the boats have all the potential to protect the water areas of fleet naval bases and military facilities, including from terror attacks," he added.

The boats have been developed by the Vympel Design Bureau and built by the shipyard in Rybinsk in the Yaroslavl Region in central Russia.

The Project 21980 boat is designed to protect water areas and fight sabotage and terrorist groupings in coastal waters.

The Project 21980 anti-sabotage boat is armed with large-caliber machineguns, depth charges and man-portable air defense missile systems. The boat's radio electronic equipment can search for moving underwater targets and its diving system can handle several divers at a time.

© Copyright 2016 TASS. All rights reserved. This material may not be published, broadcast, rewritten or redistributed.