a
Naval Forces News - Russia
Russia Develops Fugu Glider UUV Designed for Communications Between Submarines & Navy HQ
Russia's military industry has developed the Fugu (Фугу) advanced submersible robotic system designed for communications between Russian Navy submarines and higher headquarters and for keeping the submarine crews abreast of the situation in their patrol areas, according to the Izvestia daily.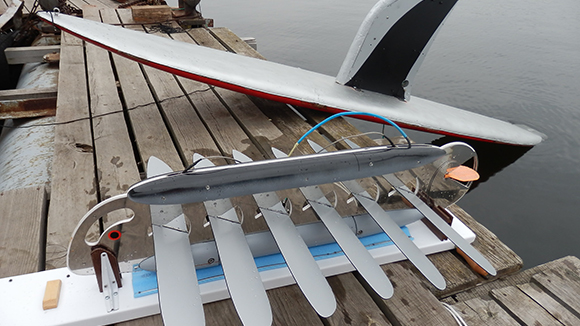 The Fugu UUV. Photo: Scientific and Industrial Group "MAKO"
Russian nuclear-powered submarines will be fitted with Fugu underwater robots that will both effectively convey commands to them and inform their crews in real time about the navigation conditions in their patrol areas, e.g. sea bottom relief, minefields, enemy submarines and even combat divers.

Mikhail Rubtsov, head of the MAKO Group, the manufacturer of the unique submersible, told the Izvestia that the Fugu has been in trials by the Defense Ministry Main Robotics Research and Test Center. The military confirmed that the underwater robotic system, which includes self-contained unmanned underwater vehicles dubbed gliders, was of interest to it.

"The Fugu has pivot fins - wings - that use the energy of the arriving waves for propelling the submerged segments of the robot and for towing its surface segment," Mikhail Rubtsov told the Izvestia. "It is virtually a self-contained robot with unlimited operation capability for underwater surveillance in the submarine's patrol area and the relay of commands to and from her."

According to Rubtsov, the towed surface platform carries a satellite navigation receiver, oceanographic and weather parameter stations and their solar panels for the above purpose.

According to Konstantin Sivkov, first vice-president of the Academy of Geopolitical Problems, the transmission of signals to ballistic and cruise missile submarines is among the most serious problems pertinent to the command and control of the submarine force.

The Soviet and Russian navies have used the low-frequency communication stations of the Zeus system - two huge 'electrodes' buried 3 km below the surface in the Kola Peninsula. A 30MW electric charge is transmitted via them. It conveys a primitive discrete signal of several hertz ('Surface and deploy the radio transceiver') to any corner of the world through the Earth's crust. To the human ear, the signal's sound is similar to the very long toll. Tupolev Tu-142MR (NATO reporting name: Bear-J) aircraft capable of extending the aerial several kilometers long are used for communicating with submarines too.

"These systems are very vulnerable," Konstantin Suvkov said. "The position of the low-frequency communications system is well known. It can be found even by using Google Maps and attacked with missiles. The Tu-142MR is an easy prey to enemy fighters too. To cap it all, it exposes submarines that surface for communication."
© Copyright 2016 TASS. All rights reserved. This material may not be published, broadcast, rewritten or redistributed.

Comment by Navy Recognition
The Russian Fugu looks somewhat similar to Liquid Robotic's Wave Glider and seems to share the same propulsion system based on wave energy. A military variant of the Wave Glider called SHARC was developped with Boeing.