a
Naval Forces News - USA
The 2nd DDG 51 Flight IIA Restart, the Future USS Rafael Peralta Completed Alpha Trials
The future USS Rafael Peralta (DDG 115) successfully completed alpha trials Oct. 18 after spending two days underway off the coast of Maine. The trials were conducted by the shipbuilder, General Dynamics' Bath Iron Works (BIW).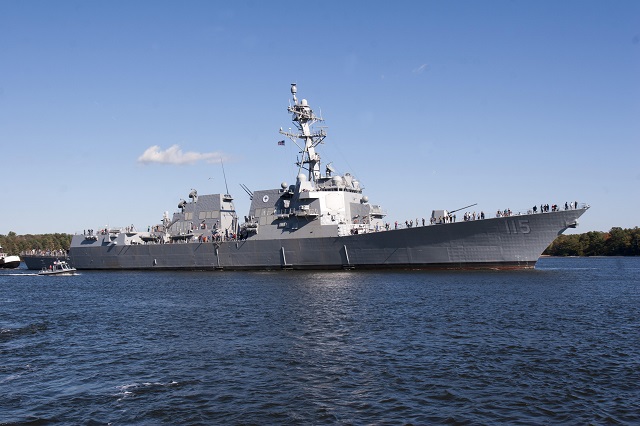 BATH, Maine (October 18, 2016) – The future USS Rafael Peralta (DDG 115) sets sail for the first time to conduct initial at-sea builder's trials off the coast of Maine. (Photo by General Dynamics, Bath Iron Works)

Alpha trials, the initial set of builder's trials, is the first of three underway periods the ship will conduct to test and demonstrate that the ship's systems are properly installed and operational. Rafael Peralta successfully conducted a series of test events to demonstrate the key communication, damage control, navigation and propulsion systems.

"Rafael Peralta is the first Arleigh Burke destroyer constructed since the program restarted in 2010 that BIW has taken to sea," said Capt. Casey Moton, DDG 51 class program manager, Program Executive Office (PEO) Ships. "The ship performed tremendously well and that's a testament to the hard work and commitment of our industry partners as well as the Navy team."

Rafael Peralta is equipped with the Aegis Baseline 9 Combat System which includes an Integrated Air and Missile Defense (IAMD) capability incorporating Ballistic Missile Defense 5.0 Capability Upgrade and Naval Integrated Fire Control-Counter Air. The ship's IAMD radar will provide increased computing power and radar upgrades that improve detection and reaction capabilities against modern air warfare threats. The Aegis Combat System will enable the ship to link radars with other ships and aircraft to provide a composite picture of the battlespace and effectively increase the theater space.

DDG 115 is the 65th Arleigh Burke (DDG 51) class destroyer and the first of the DDG 51 Flight IIA restart ships to be built at BIW. The shipyard is currently in production on future destroyers Thomas Hudner (DDG 116), Daniel Inouye (DDG 118) and Carl M. Levin (DDG 120) and under contract for three additional ships awarded as part of the five-ship multi-year procurement for fiscal years 2013-2017.