a
Naval Industry News - China
China Delivered "NNS Unity" Second P18N Offshore Patrol Vessel to Nigerian Navy
Rear Admiral Ibok-Ete Ekwe Ibas, Chief of the Nigerian Navy, was at the China Shipbuilding & Offshore International Company (CSOC)'s Wuchang Shipyard in Wuhan, China in early September to receive the second P18N offshore patrol vessel (OPV). CSOC is part of the part of the State Shipbuilding Corporation, China Shipbuilding Industry Corporation (CSIC).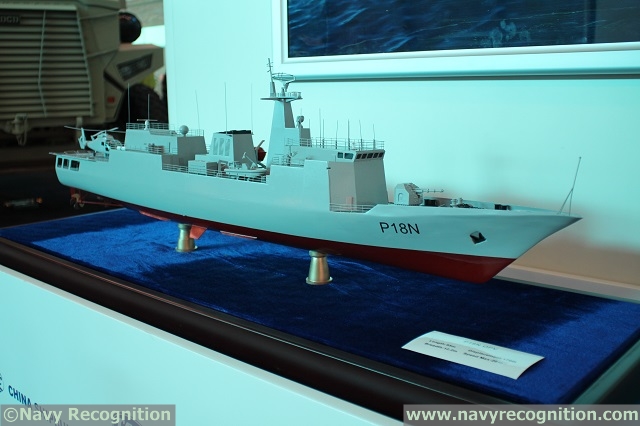 Model of the P18N OPV on the CSOC stand during AAD 2014
Construction and delivery of this second OPV for Nigeria was tremendously late: Launched in November 2014, the 1,800 tons vessel was supposed to be delivered in late 2015. Reasons for the delay have not been disclosed.

On September 13 2016, NNS Unity left China to join its home port in Nigeria. With Chinese engineers are reportedly aboard the ship.

P18N Offshore Patrol Vessel

In April 2012, Nigeria signed a contract with China to build two P18N OPVs. Under the contract, the lead ship was to be built in Wuhan with construction starting in October 2012, while the second unit was expected to be partially built in Nigeria..

At AAD 2014 a representative from CSOC gave us the following specifications:
P18N Offshore Patrol Vessels have a displacement of 1,700 tons, a length of 95 m, width of 12.2 m and beam of 3.5 m. It is powered by two MTU 20V 4000M diesel engines. The maximum speed is 21 knots. The endurance of the vessel is 20 days at sea (range 3000 nautical miles at 14 knots) for a crew of 70 sailors.

Sensors include:
- TR47 Tracking Radar
- SR60 Surveillance Radar
- Navigation radar (of chinese origin)
- PJ46 Decoy launchers
- 2x communication antennas under radomes
- UHF/VHF radios
The class is not fitted with sonars.

The Combat Management Systems (CMS) was developped by the Wuhan Digital Engineering Institute.

These OPVs are fitted with a H/PJ26 76mm main gun mount and two H/PJ14 30mm gun mounts. The class may accomodate a Z- 9 helicopter thanks to its helipad. Only rotary UAVs may fit inside the hangar space however.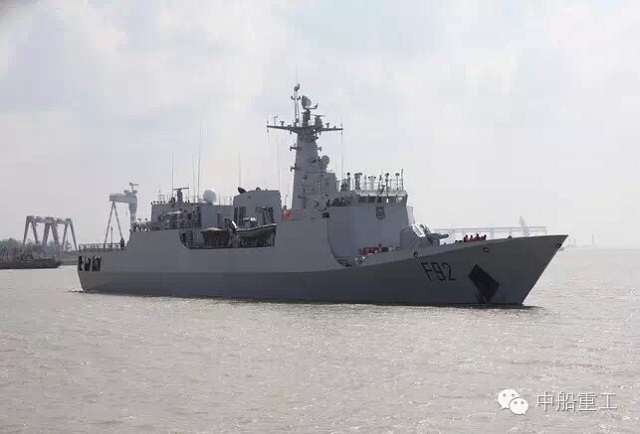 The second P18N OPV for Nigerian Navy leaving Wuhan, China in September 2016
Navy Recognition was told that the P18N was designed by China Ship Design and Research Center, or 701 Institute of the China Shipbuilding Industry Corporation (CSIC) at the Wuhan University of Science and Technology,

P18N mainmissions will include coastal and offshore patrol, protecting the EEZ areas, carrying out search and rescues, preventing marine pollution and anti-piracy. Nigeria, Africa's largest oil producer, has seen an increase in piracy in the Gulf of Guinea in recent years.