a
Naval Industry News - Russia
Shipyard in Northwest Russia Laid Keel of 1st Project 23550 Ice-class patrol ship Ivan Papanin

The first Project 23550 'Ivan Papanin" ice-class patrol ship being built for Russia`s Navy (VMF) has been laid down at the Admiralty Shipyards (a subsidiary of the United Shipbuilding Corporation) in St. Petersburg, TASS reports.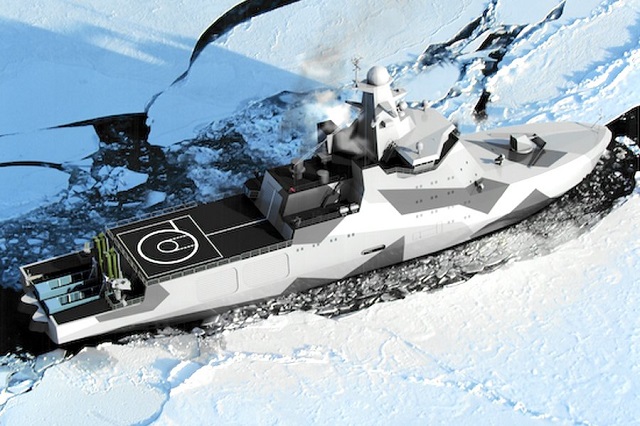 Project 23550 ice-class patrol ship fitted with 100mm main gun and Kalibr cruise missile launchers will be closer to a corvette rather a mere patrol vessel. Image: Russian Defense Ministry.
"Today we are celebrating a milestone that is of high importance for both the Navy and the defense shipbuilding. The birthday of the future ship that will protect our Arctic vast expanses is today. The ice-class patrol ship is going to be built in accordance with the decision of Russia`s Defense Minister to maintain our state`s protection in the Arctic strategic area," the Commander-in-Chief of Russia`s Navy, Admiral Vladimir Korolyov said.

He added that the second ship of this project named after the famous polar explorer Nikolay Zubov would be laid down at an early date. Its armament suite will differ from the first ship`s one and has yet to be defined. The ability to store an armed shipborne helicopter onboard is important, Korolyov added.

In 2016, Russia`s Ministry of Defense (MoD) ordered two Project 23550 ice-class patrol ships from the Admiralty Shipyards. They are to be delivered to the service by end-2020. The ships will combine the capabilities of a tugboat, an icebreaker and a patrol ship. They will be able to break ice with a thickness of up to 1.5 m.

The Admiralty Shipyards are also building the 'Ilya Muromets' diesel-electric icebreaker that is supposed to be delivered to the Navy this year.

© Copyright 2017 TASS. All rights reserved. This material may not be published, broadcast, rewritten or redistributed.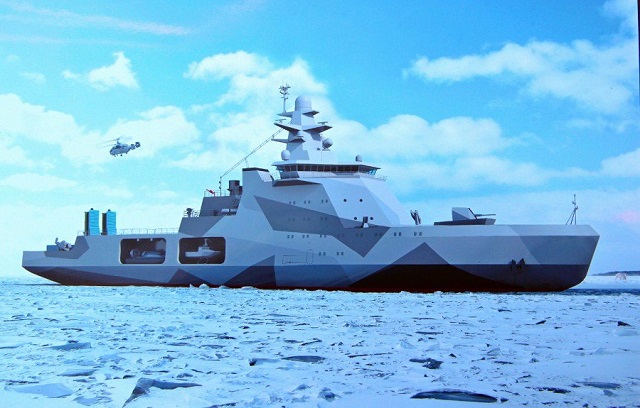 Artist impresson of Project 23550 ice-class patrol ship . Image: Russian Defense Ministry.
Comments by Navy Recognition:
According to the Russian MoD, the Project 23550 combines the qualities of patrol boat, ice-breaker and tug, being a multi-purpose ship. As the MoD`s official spokeperson pointed out, the Project 23550 vessels "have no analogues in the world". The boat can break ice 1.5 m thick. The MoD did not disclose the specifications of the new class yet however.

But based on the official illustration released by the Russian MoD, the class will be armed with medium-caliber naval gun on the foredeck (reportedly, 100mm A-190-01 or 57mm A-220M developed by Burevestnik scientific-research institute) and two containerized missile launch system (probably, Kalibr-NK (NATO reporting name: SS-N-27 Sizzler) anti-ship/land-attack subsonic cruise missiles) and one Ka-27PS anti-submarine or Ka-27PL search-and-rescue helicopter.

"Don`t be confused by their designation and classification. Both Project 23550 so-called "patrol boats" are well armed. Their armament set does not come short of many corvettes," a source in Russian defense industry pointed out.

It should be noted that Russia is making significant efforts to beef up its Arctic capabilities. In Autumn 2015, Russian defense industry laid down the first Project 03182 multirole patrol/support ship. Russian shipbuilding industry is also constructing Project 20180 logistics ships, Project 1900 diesel-electric ice-breakers, and Project 22600 and Project 22220 nuclear-powered ice-breakers. The aforementioned ships will bolster Russia`s activity in the Arctic Region, according to the analysts.