a
Naval Forces News - Russia

Russian Pacific Fleet Project 877 Kilo-class SSK Submarine B-949 re-enters service after repair
The Project 877 diesel-electric submarine Ust-Bolsheretsk has re-entered service with Russia's Pacific Fleet after repairs, fleet spokesman Captain 2nd Rank Vladimir Matveyev told TASS. The submarine's strength hull, sonars and diving system were repaired, the spokesman added.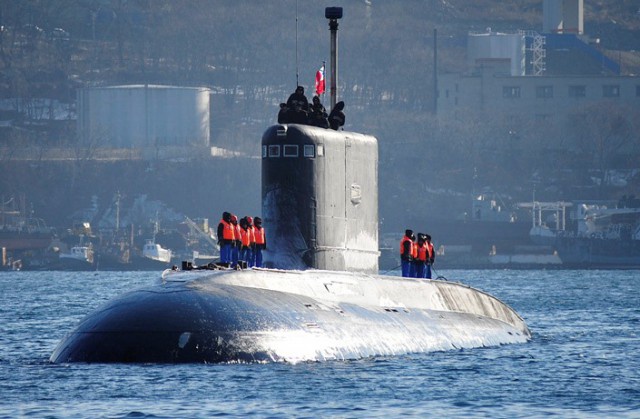 Project 877 Diesel-electric submarine (SSK) B-494 "Ust-Bolsheretsk"
"The Dalzavod Shipyard has completed the dock repairs of the Pacific Fleet's diesel-electric submarine Ust-Bolsheretsk. The submarine re-entered service with the fleet and began to accomplish tasks," Matveyev said. According to him, the work to float out the submarine went smoothly.

The Dalzavod Shipyard within the Far Eastern Shipbuilding and Ship Repair Center is the sole contractor repairing and servicing Pacific Fleet ships. Last year, the shipyard repaired 250 Pacific Fleet ships.

The Project 877 diesel-electric submarine was developed by the Rubin Central Design Bureau that is a subsidiary of Russia's United Shipbuilding Corporation (USC). The Project 877 submarine is designed to fight surface ships and submarines and defend naval bases, coastal facilities and sea lanes. It can be also used for reconnaissance and patrolling. The submarine has a full displacement of more than 3,000 tons, a length of 72.6 meters, a submerged speed of 17 knots, a submergence depth of 300 meters and a cruising capacity of 45 days. The submarine's crew totals 57. The submarine is armed with six 533mm torpedo tubes.

© Copyright 2017 TASS. All rights reserved. This material may not be published, broadcast, rewritten or redistributed.