a
Naval Forces News - Russia
Fourth Project 12700 Alexandrit-class MCM Vessel Laid Down for Russian Navy
The fourth Project 12700 mine countermeasures (MCM) fiberglass vessel 'Vladimir Emelyanov' for Russia`s Navy has been laid down at the Sredne-Nevsky Shipyard (a subsidiary of the United Shipbuilding Corporation) in St. Petersburg, TASS reports.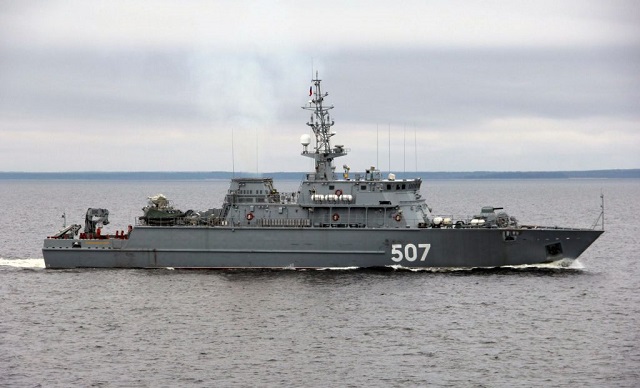 The first Project 12700 Alexandrit-class MCM vessel.

Picture: Sredne-Nevsky Shipyard



"Today is a white-stone marked day for the shipyard and all shipbuilders, as an outstanding vessel is being laid down that will be serving in our Navy. She is fitted with up-to-date hardware. As far as I know, she is the biggest ship with monolithic hull made of fiberglass," the Governor of St. Petersburg Georgy Poltavchenko said at the official ceremony.

The head of the Navy`s shipbuilding department Vladimir Tryapichnikov pointed out that composite materials were used in the building of the vessel. He reminded that the type ship was carrying out the service, while two more ones were at various levels of completion. "We are waiting [the vessel] to be delivered within the schedule and without complaints," he added not mentioning the date.

The Project 12700 Alexandrit-class MCM vessels have been designed by the Almaz Central Marine Design Bureau (a subsidiary of the United Shipbuilding Corporation). They can use the newest sonar stations mounted on the vessel or TV-controlled/autonomous underwater vehicles and are fitted with an automated MCM control system. The vessels can also use traditional minesweeping gear.

The Project 12700 MCM vessels feature the world`s biggest unique monolithic fiberglass hull formed by vacuum infusion.



© Copyright 2017 TASS. All rights reserved. This material may not be published, broadcast, rewritten or redistributed.