a
Naval Forces News - Russia
Shipyard in West Russia lays down Project 23700 Rescue Support Ship Voyevoda
The Yantar Shipyard in west Russia has laid down the Project 23700 rescue support ship Voyevoda, shipyard spokesman Sergei Mikhailov told TASS. The Yantar Shipyard is a subsidiary of Russia's United Shipbuilding Corporation.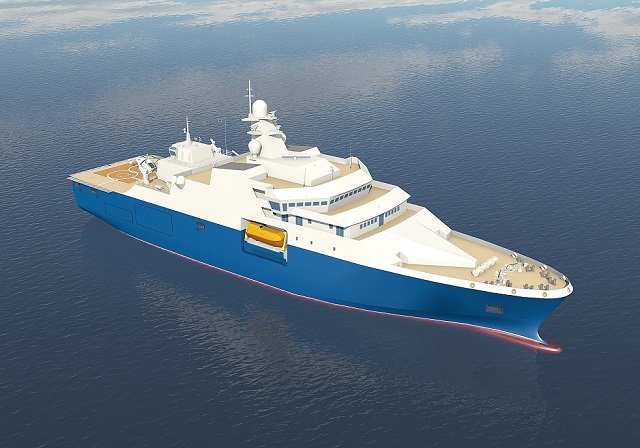 Project 23700 rescue support ship.

Picture:

Yantar Shipyard



"The rescue support vessel Voyevoda is the Project 23700 lead ship developed by the Severnoye Design Bureau. It was ordered by Russia's Industry and Trade Ministry," Mikhailov said.

Under the contract signed in December 2016, the vessel is expected to be delivered to the customer in November 2019, he added. Russia's Federal Agency for Sea and Inland Water Transport (Rosmorrechflot) will operate the vessel Voyevoda.

The plaque was attached to the ship's first hull section by Acting Governor of the Kaliningrad Region Anton Alikhanov, Deputy Industry and Trade Minister Oleg Ryazantsev, President of the United Shipbuilding Corporation Alexei Rakhmanov and General Designer of the Severnoye Design Bureau Vladimir Spiridopulo.

The Project 23700 ship Voyevoda is designed to support rescue operations and transport and supply small search and rescue craft. The ship can carry four boats and two helicopters. The vessel has a displacement of 7,500 tons, a length of 111 meters, a width of 24 meters, a speed of 22 knots and endurance of 5,000 miles.



© Copyright 2017 TASS. All rights reserved. This material may not be published, broadcast, rewritten or redistributed.