a
Naval Forces News - Russia
Russian Navy Project 23120 Combat Logistics Ship to Conduct Arctic Sea Trials
The Project 23120 logistics support ship Elbrus has returned to the Severnaya Verf Shipyard from its proof sortie into the Baltic Sea and is preparing for trials at the northern latitudes, Severnaya Verf's press service reported.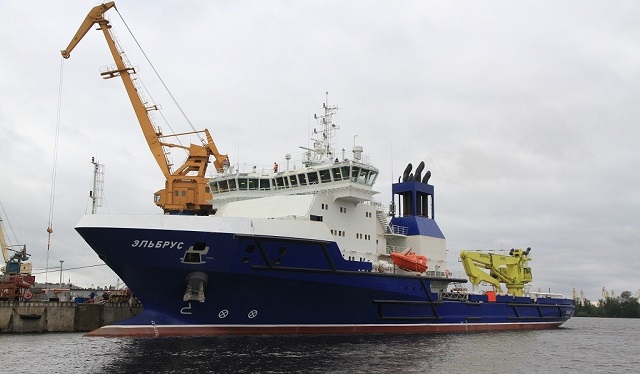 The Project 23120 lead logistic ship Elbrus

"Based on the proof sortie's results, Elbrus has got the green light to prepare for a passage to the northern latitudes for further trials, including tests of its air-technical equipment," the press service quotes Cyril Marugin, main builder of Project 23120.

In July 2017, Deputy Defense Minister Yury Borisov noted that Verf's shipbuilders overcame the difficulties associated with the import substitution of Elbrus' foreign equipment. "There were objective difficulties connected with the delivery of imported equipment. The ship was to be accepted last year - it doesn't need to be concealed, but now we are out of the woods," Borisov said.

The Project 23120 logistics support ship is designed to carry cargoes, including their delivery ships on the high seas, tow ships and vessels, escort ships performing combat missions, provide assistance to seafarers in distress, and carry out seafloor relief studies. The Elbrus's hull complies with the ARC4 ice class sufficient to navigate through 0.6m-thick ice fields.



© Copyright 2017 TASS. All rights reserved. This material may not be published, broadcast, rewritten or redistributed.



Comments
Project 23120 ships are designated to load, store, transport and unload dry cargoes on the coast or warships, to tug vessels and provide assistance to their crews. The ARC4 high ice class allows them to operate in the Arctic.
The lead Elbrus ship of the project had its keel laid in 2012 and was to be handed over to the Navy last year, but the contract was not fulfilled. In September the Northern Shipyard said the Elbrus will be passed over to the Navy by the end of 2016. The third vessel of the project, The Captain Shevchenko, had its keel laid in the summer of 2014.