a
Naval Industry News - United States
Huntington Ingalls contracted to modernise the USS Dwight D Eisenhower carrier
Huntington Ingalls has received a $36.4 million contract for maintenance and modernization work on the USS Dwight D. Eisenhower aircraft carrier, the Department of Defense announced.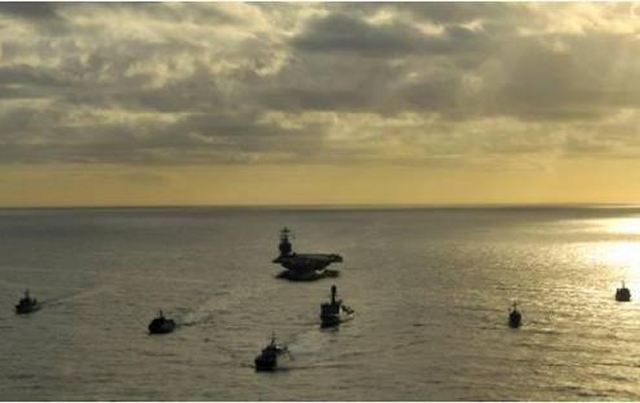 Carrier Strike Group Ten, with the USS Dwight D. Eisenhower as it flagship. U.S. Navy photo

The contract is part of the fiscal 2017 incremental availability program at Norfolk Naval Shipyard. Work will be conducted at Portsmouth, Va., and Newport News, Va., with a projected completion date of March 2018. The contract was non-competitive due to Huntington Ingalls Newport News Shipbuilding Division being the only available contractor for the necessary ship alteration and nuclear propulsion work, the Pentagon said.

The CVN 69 USS Dwight D. Eisenhower is a Nimitz-class nuclear powered aircraft carrier. It is the flagship for Carrier Strike Group Ten which includes three Arleigh Burke-class destroyers, a Ticonderoga-class cruiser and a carrier air wing of eight squadrons numbering around 70 aircraft. A fast attack submarine and support ships are generally attached to the group as well when deployed. The Eisenhower was the second ship constructed in the Nimitz-class and has been in service since its commissioning in 1977. It is expected to be replaced by the Gerald. R. Ford-class of aircraft carriers.