a
Naval Forces News - Russia
Russia, Indonesia still discussing delivery terms for Project 636 submarines
Indonesia is still in talks with Russia on the purchase of Project 636 diesel-electric submarines equipped with the Kalibr (NATO reporting name: SS-N-27 Sizzler) missile, Indonesian Ambassador to Russia Wahid Supriyadi said in an interview with Rambler News Service.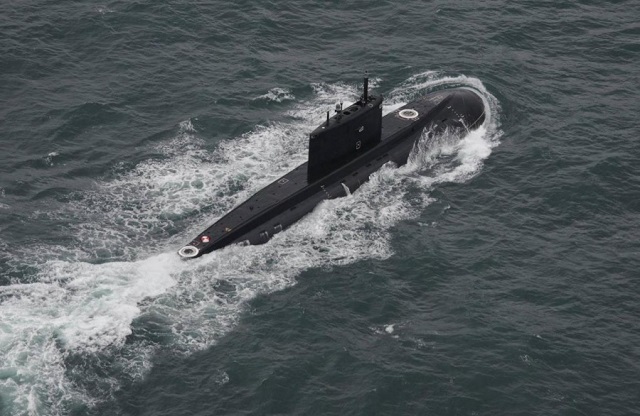 Russia's new Project 636.3 (Varshavyanka) diesel-electric submarine (SSK) "B-261 Novorossiysk" transiting in Belgium's EEZ. File Picture: Belgian Navy
"Indonesia wants to purchase submarines of the type but the talk is about long-term plans as there are a lot of technical issues that should be discussed by the two countries," Supriyadi said in reply to a question about the plans to purchase Russian-made submarines.

Earlier, Russian presidential aide for military and technical cooperation Vladimir Kozhin said that the Project 636 submarine furnished with the Kalibr missile was the most in-demand submarine on the global market today.

"Indonesia, the Philippines, Thailand and some other countries are in the pipeline. This is the most in-demand project," Kozhin said at the International Maritime Defense Show 2017 (IMDS 2017).

According to him, Russia has completed the delivery of Project 636 submarines to Vietnam.



© Copyright 2017 TASS. All rights reserved. This material may not be published, broadcast, rewritten or redistributed.