a
Naval Forces News - Thailand
RGM-84L Harpoon Block II Anti-Ship Missiles for Royal Thai Navy DW3000 Class Frigate Tha Chine
According to a Defense Security Cooperation Agency (DSCA) release, the U.S. State Department has made a determination approving a possible Foreign Military Sale to the Government of Thailand for RGM-84L Harpoon Block II Surface Launched Missiles.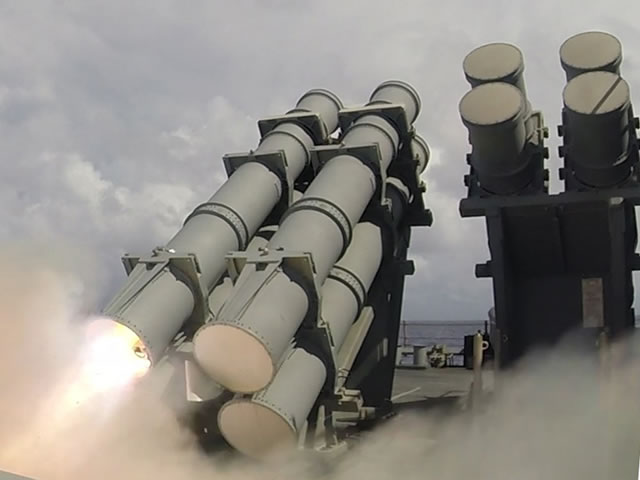 File US Navy picture: The Arleigh Burke-class guided-missile destroyer USS Benfold (DDG 65) conducts a live fire of a harpoon missile as part of a sink exercise (SINKEX) during Valiant Shield 2016.
The Government of Thailand has requested the possible sale of up to five (5) RGM-84L Harpoon Block II Surface Launched Missiles and one (1) RTM-84L Harpoon Block II Exercise Missile. This proposed sale will contribute to the foreign policy and national security of the United States by helping to strengthen the U.S.-Thai strategic relationship and to improve the security of an important partner.

The proposed sale will provide enhanced capabilities in effective defense of critical sea lines. Thailand intends to use the missiles on its DW3000 Class Frigate. The proposed sale of the Harpoon Block II missiles and support will increase the Royal Thai Navy's maritime partnership potential. Thailand has purchased Harpoon missiles previously and will have no difficulty absorbing these missiles into its armed forces.

Harpoon Block II
The Harpoon is an all-weather anti-ship missile typically integrated with naval platforms. The missile uses a radar guidance system to attack surface ships, and can also be launched from submarines, shore batteries, or aircraft.

Harpoon Block II missiles feature autonomous, all-weather, over-the-horizon capability and can execute missions against sea and land targets, including coastal defense sites, surface-to-air missile sites, exposed aircraft, port or industrial facilities, and ships in port. More than 600 ships, 180 submarines, 12 different types of aircraft and land-based launch vehicles carry Harpoon missiles. Boeing has delivered more than 7,300 Harpoon and Harpoon Block II missiles to the U.S. Navy and more than 30 international military customers since the inaugural Harpoon contract was awarded by Naval Air Systems Command on June 21, 1971.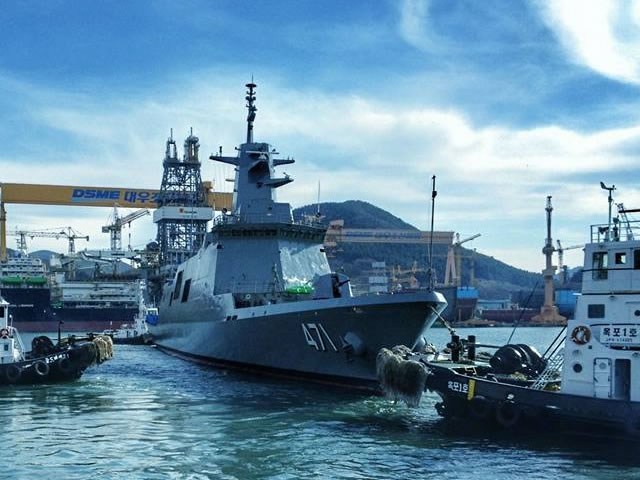 Royal Thai Navy first DW3000 Frigate. Picture:DSME
DW3000 F Frigate
South Korean shipyard Daewoo Shipbuilding & Marine Engineering (DSME) held a ceremony in January 2017 for the delivery of the DW3000 Frigate ordered by the Royal Thai Navy. Thailand ordered the 3,650 tons frigate in August 2013 under a contract worth US$410 million.

The vessel, a "DW3000 F" Frigate, was fully designed and developed by DSME. It is 122.5 meters in length, 14.4 meters in width with a top speed of 30 knots. It can accommodate a crew of 136.

The vessel, which received the penant number 471 and named "Tha Chine" is fitted with a 76mm main gun. Models of the vessel previously showcased by DSME showed additional equipment such as a Phalanx CIWS, Harpoon launchers, 8x Mk41 VLS, Saab SeaGiraffe radar and Atlas Electronik towed sonar.

A second unit may eventually be ordered by the Royal Thai Navy.