a
Naval Forces News - France

French Signals intelligence Vessel Dupuy de Lôme Spotted in Japan
The French Navy Signals Intelligence (SIGINT) vessel Dupuy de Lôme (A 759) was spotted last week in Yokosuka naval base, HQ of the JMSDF Self Defense Fleet and of the US Navy's 7th fleet. Based on pictures from a different spotter, the vessel was still in Yokosuka on August 12th.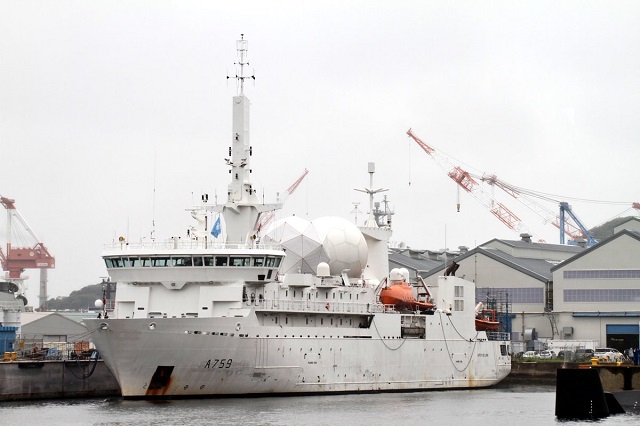 French Navy Signals Intelligence (SIGINT) vessel Dupuy de Lôme (A 759) spotted in Yokosuka naval base last week. Picture: @phantom2navy
Navy Recognition contacted the French Military Central Command (EMA - État-major des armées) to ask if the presence of this SIGINT vessel is linked to recent events in North Korea. Here is the press service's answer:
To answer your question, the presence of this French vessel in this zone is not related to recent events. The French armed forces regularly deploy units in all theaters of interest, particularly in the Indian and Pacific Oceans. Regular deployments in strategically important areas allow us to maintain our knowledge of the area and respect the freedom of navigation. As the vessels of other oceanic navies, French ships, during this deployment, navigate and conduct cooperation that develop their knowledge of the Indo-Pacific zone in particular. This deployment thus maintains our autonomous capacity of appreciation under the "knowledge and anticipation" strategic function.

It has to be noted that the Dupuy de Lôme already visited Yokosuka in 2012, during North Korean ballistic missile tests.

The Dupuy de Lôme is designed for the collection of signals, communications and electronic emission beyond enemy lines. It is fitted with an impressive array of sensors, most of them developed by Thales. The vessel has an endurance of 70 days at sea and is available 350 days a year for the French Direction du renseignement militaire (DRM) (English:Directorate of Military Intelligence). DRM is an intelligence agency that has the task of collecting and centralizing military intelligence information for the French Armed Forces. Created in 1992, its role is similar to that of the DIA (United States), the DI (United Kingdom) or the GRU (Russian Federation).

It may be unrelated but our colleagues from Air Recognition also pointed to us that a French Air Force C-130H belonging to the GAM 56 unit was spotted landing the same week in Seoul, South Korea. GAM 56 (Groupe Aérien Mixte 00.056 "Vaucluse") is in charge of supporting France's external intelligence agency (French: Direction générale de la sécurité extérieure, DGSE).