a
Naval Forces News - Russia
Russian Navy New Logistic Vessel Begins Final Trials in Northern Latitudes
The Elbrus supply vessel of project 23120 left the Northern Shipyard of the United Shipbuilding Corporation to undergo final test trials in northern latitudes, the press service of the shipyard said.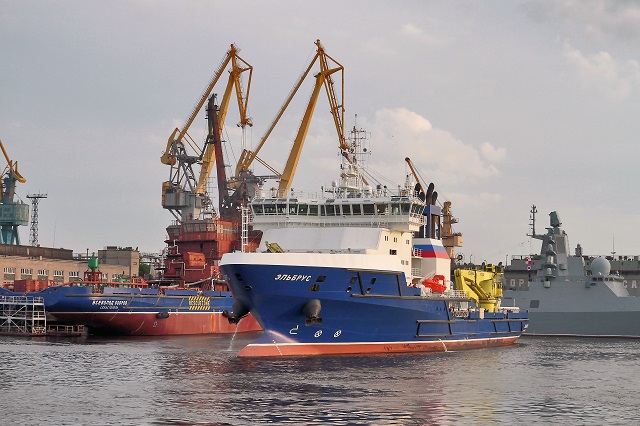 The first Project 23120 logistics vessel Elbrus departing for the Northern fleet. Picture: PJSC "Shipyard" Severnaya Verf "
"Navigation to the north will take ten days. The crew and shipbuilders will check seaworthiness of the vessel, test the main power plant, the multibeam echo sounder, and cathode protection. Upon arrival to the point of destination the Elbrus will for three weeks test the main onboard systems and equipment and train cohesion with aircraft," it said.

The Elbrus is distinguished by dynamic positioning system which keeps the vessel in the assigned place in any weather conditions, two electric hydraulic cranes with a lifting capacity of 50 tons, two towing engines with hauling power of 120 and 25 tons, a cargo deck of over 700 square meters in space and other facilities. The vessel can load, transport and unload cargoes, tug warships up to an aircraft carrier due to a more powerful engine, participate in search-and-rescue operations and provide medical air to those in distress at sea (as it is equipped with a decompression unit), map the seabed relief and search for submerged objects. The ice-class ARC-4 hull of the vessel can break 0.6-meter thick ice and ensure navigation in Arctic conditions.

Imported equipment was successfully replaced in Elbrus construction. Thus, imported power cables were replaced by domestic ones, the foreign water mist system was replaced by a Russian one, the European hydro acoustic antenna was also replaced by a Russian-made. The constructive solutions of project 23120 provide for broad upgrades for specific requirements of the customer. After successful completion of test trials the vessel will become operational in the Russian Navy.

© Copyright 2017 TASS. All rights reserved. This material may not be published, broadcast, rewritten or redistributed.