a
Naval Forces News - USA
US Navy Commissions 1st Expeditionary Sea Base USS Lewis B. Puller ESB 3 in Bahrain
The U.S. Navy commissioned the Expeditionary Sea Base USS Lewis B. Puller (ESB 3) during a ceremony Thursday, August 17, at Khalifa bin Salman Port in Al Hidd, Bahrain. Puller is the first U.S. ship to be commissioned outside the United States, and the ship's reclassification provides U.S. Central Command and 5th Fleet greater flexibility to better meet regional challenges.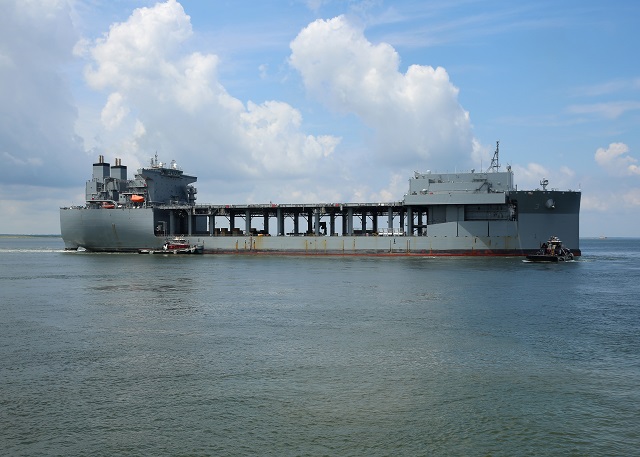 NORFOLK (July 10, 2017) The Military Sealift Command expeditionary mobile base USNS Lewis B. Puller (T-ESB 3) departs Naval Station Norfolk for its first operational deployment. Puller is deploying to the U.S. 5th Fleet area of operations in support of U.S. Navy and allied military efforts in the region. (U.S. Navy photo by Bill Mesta/Released)
The Lewis B. Puller is the second ship to bear the name of Lt. Gen. Lewis Burwell "Chesty" Puller, a distinguished combat veteran of World War II and the Korean War. Puller is the only Marine to have been awarded the Navy Cross on five separate occasions and is the most decorated individual in the history of the USMC. The first Lewis B. Puller (FFG 23), an Oliver Hazard Perry-class guided-missile frigate, served from 1982-1998, and was then transferred to the Egyptian Navy and renamed Toushka (F.906).

As the latest warship to join the U.S. Navy, Lewis B. Puller will be commanded by Navy Capt. Adan G. Cruz and crewed by Navy Sailors and civilian mariners. The civilian mariners will be led by the ship's Master, Captain Jonathon Olmsted. The commissioning will give combatant commanders greater operational flexibility on how they employ Lewis B. Puller in accordance with the laws of armed conflict.

Lewis B. Puller will be replacing Afloat Forward Staging Base (Interim) USS Ponce. As an AFSB(I), Ponce was able to stage people and equipment in support of multiple maritime missions in the 5th Fleet area of operations. Lewis B. Puller will serve as the first ship built specifically for the purpose of serving as an afloat expeditionary sea base.

As the security environment has become faster paced, more complex and increasingly competitive, the Navy has a growing need to station more diverse and capable warships around the globe. Redesignating USNS Lewis B. Puller as a commissioned warship will allow the Navy greater operational flexibility and provide critical support to TF 51/5's joint forces at sea, from the sea and ashore to meet potential threats in the 5th Fleet area of operations.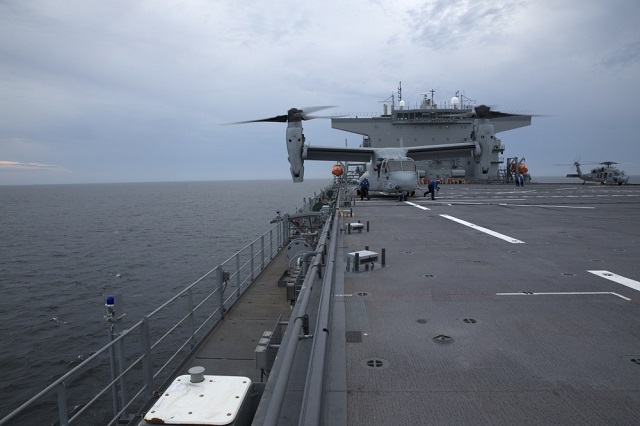 A U.S. Marine Corps MV-22 Osprey assigned to Marine Medium Tiltrotor Squadron (VMM) 263, is prepared to be refueled aboard the USNS Lewis B. Puller, July 5, 2017. VMM-263 conducted flight certifications aboard USNS Lewis B. Puller prior to deployment. (U.S. Marine Corps photo by Cpl. Austin A. Lewis)
The 784 foot-long vessel features a 52,000 square-foot flight deck, fuel and equipment storage, repair spaces, magazines, and mission-planning spaces. Able to accommodate up to 250 personnel, USS Lewis B. Puller will support multiple missions, such as air mine counter measures, counter-piracy operations, maritime security operations, humanitarian aid and disaster relief missions, and crisis response operations.