a
Naval Forces News - Russia
3M-14 Kalibr strikes in Syria confirmed Russian Navy`s ability to engage remote targets
The trials of long-range high-precision weapons during the counter-terror operation in Syria have confirmed the ability of the Russian Navy to provide presence in the remote areas of the World`s water in full combat readiness, according to the Chairman of the Russian Armed Forces` Military Scientific Committee, the Deputy Chief of General Staff Lieutenant General Igor Makushev.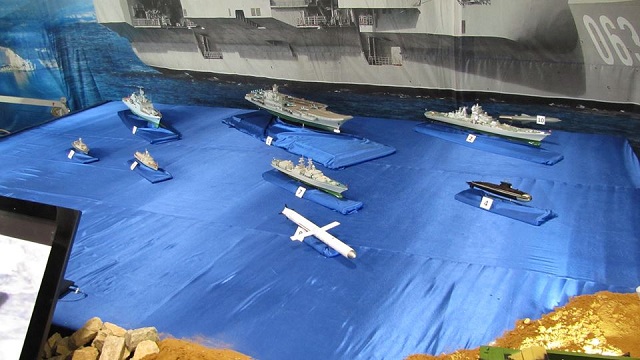 Scale models of Russian Navy task group during Syria operations. Showcased during the 3rd International Military Technical Forum "Army-2017". Picture: Anton Lavrov

"A massive launch of the Kalibr cruise missiles including the ones by a submerged submarine was conducted for the first time in the Russian Navy`s practice. The usage of high-precision sea-based weapons allowed hitting of targets at a distance of up to 1,500 km with the required precision," Makushev said at a round-table conference on the discussion of the Syrian experience at the Army-2017 international military-technical forum.

He pointed out that the conducted approbation of long-range high-precision weapons has proven the ability of the Navy "to provide presence in the remote areas of the World`s water on a long-term basis being ready to conduct single, group and joint strikes".

Russia`s Navy has attacked the objects of the terrorists in Syria by the 3M-14 cruise missiles for several times. On June 23, Russia`s Ministry of Defense (MoD) informed about such launches conducted by the 'Admiral Essen' and 'Admiral Grigorovich' frigates and the 'Krasnodar' submarine. Command posts and large ammunition depots of the Islamic State (IS, forbidden in Russia) terroristic grouping near the city of Akerbat (Hama province) were destroyed as a result of the sudden massive missile strike. It should be noted that the 'Krasnodar' submarine launched the missiles staying submerged.


© Copyright 2017 TASS. All rights reserved. This material may not be published, broadcast, rewritten or redistributed.