a
Naval Forces News - Russia
Russian Navy to get new unified submarine weapon containers
The Russian Navy will get specialized transportation and launching containers for torpedoes and missiles. They are installed either between the hulls or loaded into the torpedo launcher of a submarine. It allows considerably expanding the types of munitions without changing warship construction and combat control systems. The first to get the containers are the latest Russian submarines of project 885, the Izvestia daily reported.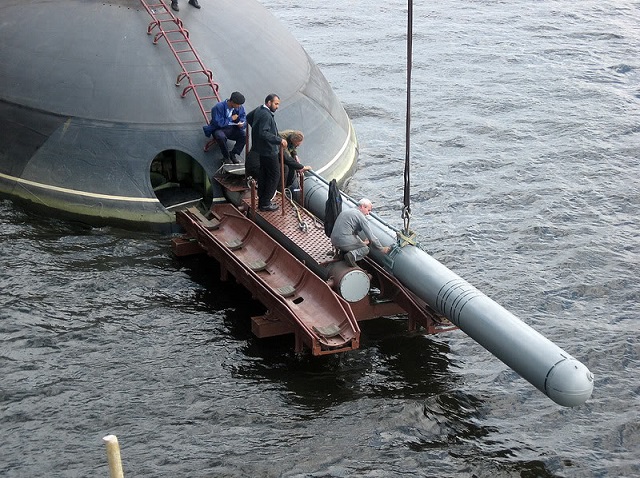 Loading of a Kalibr cruise missile aboard a Kilo-class submarine
The unified transportation and launching containers were created by the Malakhit Maritime Design Bureau in St. Petersburg. All submarines have a double-hulled construction comprising internal solid and outside light hulls. The first accommodates equipment and mechanisms in charge of motion and control of the warship, as well as missile and torpedo launchers. The external hull ensures hydro-dynamic characteristics of the warship. Ballast tanks are installed between the hulls.

Leading torpedo arms expert of the Malakhit bureau Alexander Konyukhov told Izvestia the container had passed the test trials and is already installed on perspective Russian warships.
"The container is unified for 533mm-caliber torpedo launchers. It is light and simple and besides big nuclear submarines can be installed on small ones as well," he said.

Torpedoes or missiles are kept in the container a dry state. The container is armed and checked on the ground. Therefore, it does not need any additional maintenance onboard. The launch is remotely controlled with usual equipment.

The new container fires torpedoes, missiles and anti-torpedoes of caliber 324mm and a length of up to 3.2 meters at a depth of up to 400 meters. It looks like an ordinary 4.7-meter long pipe with a locking arrangement in the front. The hull has several standard technical couplings for connecting onboard equipment to launch missile and torpedoes. An impulse gas generator fires the weapons. It allows immediately firing the weapon by pressing the launch button on the control panel.

Expert Dmitry Boltenkov told Izvestia submarines of project 885 (codename Yasen) have a unique construction in the Russian Navy. In contrast to other submarines their torpedo launchers are installed not in the forward hemisphere by behind the conning tower between the solid and light hulls.

"Attack nuclear submarines of project 885 Yasen are most secret ones in the Russian Navy. In contrast to the latest strategic fourth-generation submarines of project 955 Borei all their mechanisms, units and systems are completely new ones which have never been used before. It is high-tech equipment without analogues in Soviet or Russian military shipbuilding," he said.

© Copyright 2017 TASS. All rights reserved. This material may not be published, broadcast, rewritten or redistributed.