a
Naval Forces News - Brazil

Brazil Gives Up Modernization Plans for Aircraft Carrier Sao Paulo, Prepares for Decommissioning
According to Brazilian daily newspaper

Estado

, the Brazilian Navy (Marinha do Brasil) has just decided to decommission its sole aircraft carrier Sao Paulo (hull number A12) acquired from France in 2000. Brazil has long been considering a modernization plan for the aircraft carrier with French naval shipbuilding group DCNS, but according to Estado, "modernization costs were considered excessive by the admiralty".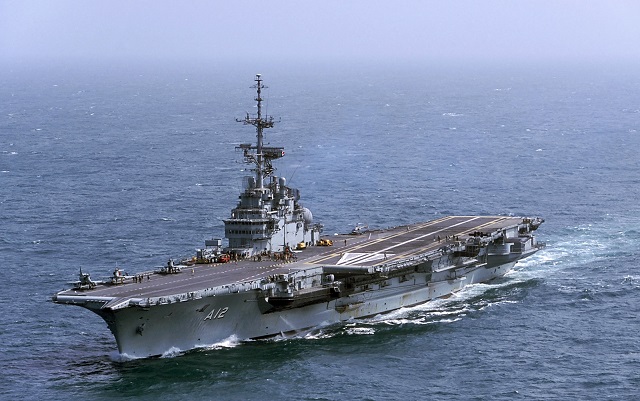 Sao Paulo at sea, December 2013. Picture: Rob Schleiffert
Modernization plans included the replacement of the entire propulsion system, catapults and combat system. According to Estado, the modernization would have cost in excess of 1 Billion Brazilian Reals ($324 Million USD approx.).

The decommissioning process is set to begin immediately and will only be completed by 2020. The three-step procedure would require 10 years of work. The remaining A-4 Skyhawk fighters of the Sao Paulo airwing will continue to operate from the Sao Pedro da Aldeia Base. The final fate of A-12 is not set yet. The Minas Gerais, an aircraft carrier that preceded São Paulo, was eventually sold as scrap on the international market.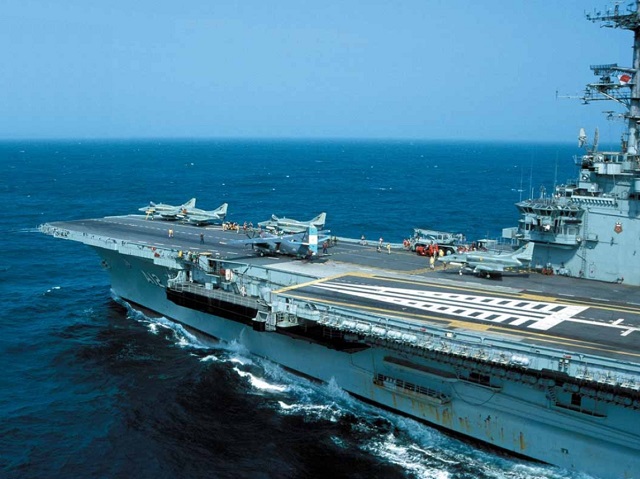 View of the forward flight deck of the Brazilian aircraft carrier São Paulo in 2003. Four McDonnell Douglas AF-1 (A-4) Skyhawk fighters and an Argentine Navy Grumman S-2T Tracker are visible. Picture: US Navy.
Sao Paulo is a Clemenceau-class aircraft carrier that was first commissioned in 1963 by the French Navy as Foch and was transferred in 2000 to Brazil, where she became the new flagship of the Brazilian Navy. The vessel displaces 32,800 tons, has a length of 265 meters and a crew of 1,920 sailors. It is able to accommodate 39 aircraft: 22 jets and 17 helicopters. In Brazilian Navy service these were: A-4KU Skyhawks, AS 532 SC Cougars, HB 350 & HB.355 Ecureuils, and SH-3 Sea Kings.

Between 2005 and 2010 the carrier underwent a modernization program. The upgrade included inspection and repair of the steam turbines; maintenance of the surface condensers; retubing of boilers; repair of two high-pressure compressors; revision of the AC electrical generator; purchase of spare parts; maintenance of pumps, valves, and structural items; addition of two API oil-water separators; installation of two water cooling units; upgrade of the chemical oxygen generator; repair and treatment of oil tanks; substitution of the Naval Tactical Data System; installation of a closed-circuit television system; installation of an IFF transponder; installation of a MAGE system (ESM); flight deck inspection, repair, and painting; upgrade of the Optical Landing System processing unit; and revision of the aircraft catapults.

However, deficiencies in the engines, the propulsion shaft and the catapults were still recuring and Sao Paulo rarely went to sea since 2012.

The new focus of the Brazilian Navy is set to be its submarine programme to be built locally in partnership with DCNS.

Saab was pitching its Sea Gripen to Brazil as a replacement for the A-4 Skyhawks. With the decommissioning of Sao Paulo, it seems like the only potential customer for Sea Gripen would be the Indian Navy.