a
Naval Industry News - UK, Malaysia
Kelvin Hughes SharpEye Radars for Royal Malaysian Navy Gowind Frigates & MMEA Patrol Vessels
Kelvin Hughes continues to enjoy considerable success in exporting its maritime systems to Malaysia. Kelvin Hughes was contracted by Boustead Naval Shipyard (via their in-country representative D'Aquarian Services Sdn Bhd) to supply a pair of type-approved, upmast I-Band (X-Band) and E/F-Band (S-Band) SharpEye™ Doppler radars for each new ship in the Royal Malaysian Navy's Second Generation Patrol Vessel (SGPV) programme. Also known as Littoral Combat Ships (LCS), these six new vessels are of a stealth frigate design with a displacement of 3,100 tonnes. The first radar sets were delivered in July 2016 together with a system for the Shore Integration Facility (SIF) to enable the integration of combat management and other systems to be further developed and tested onshore prior to on-board installation.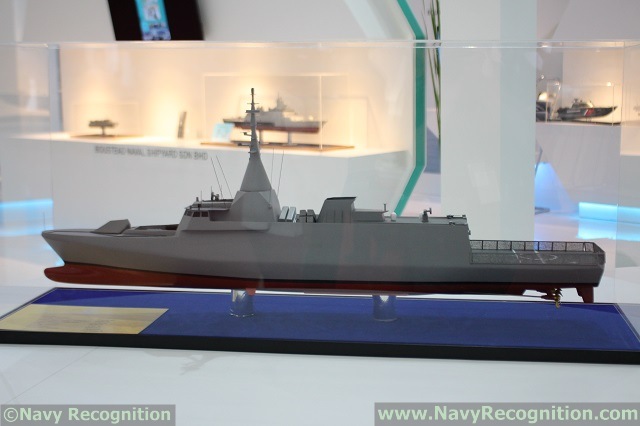 The Gowind Frigate model on display at LIMA 2015

The Malaysian Maritime Enforcement Agency (MMEA) has ordered six new coastal patrol vessels from Destini Shipbuilding (via Asra Murni Sdn Bhd). Designed for a range of operations including maritime surveillance and fire-fighting, they will be equipped with the latest Kelvin Hughes widescreen navigation radar display along with the new type-approved 12kW X-Band radar and an S-Band SharpEye™ radar. Equipment for the first two ships was delivered earlier this year and it is anticipated that they will be commissioned during the first half of 2017 with the remaining systems being delivered during the second half.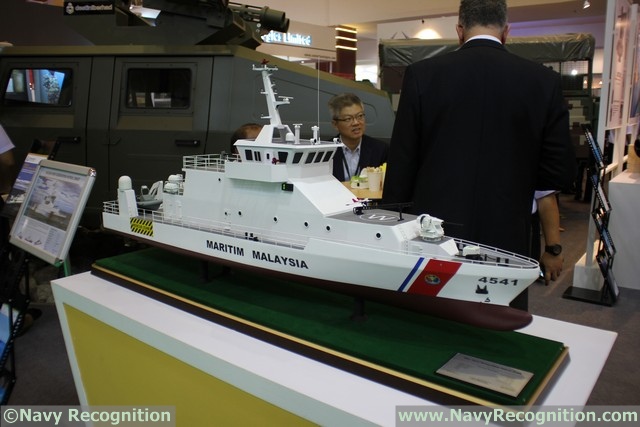 New Generation Patrol Craft scale model at DSA 2016

Kelvin Hughes has also recently supplied Electronic Chart Display and Information Systems (ECDIS) for MMEA's Fast Interceptor Boats.

Spike Hughes, Kelvin Hughes' Sales and Marketing Director, commented:
"Our ongoing success in meeting the navigational needs of Malaysian maritime forces is further evidence of our ability to deliver the very best situational awareness solutions. In particular, our solid-state SharpEye™ systems offer ultra-high reliability and, with their Doppler processing technology, an unparalleled ability to distinguish between targets of interest and environmental clutter caused by high sea states and adverse weather conditions. We are looking forward to working closely with our Malaysian partners and the relevant Malaysian government departments to ensure the successful commission of all our delivered systems."