a
Naval Aviation News - South Korea
South Korea's KAI Receives Contract to Produce 30 KUH-1 Surion Helicopters in Amphibious Variant
KAI, or Korea Aerospace Industries, received a contract from South Korea's Defense Acquisition Program Administration (DAPA) for the procurement of 30 KUH-1 Surion Helicopters in amphibious variant. The helicopters, to be delivered between 2017 and 2023 will help enhance the range of operation and mobility for the ROK Marine Corps, specifically from ROK Navy Dokdo class LPH.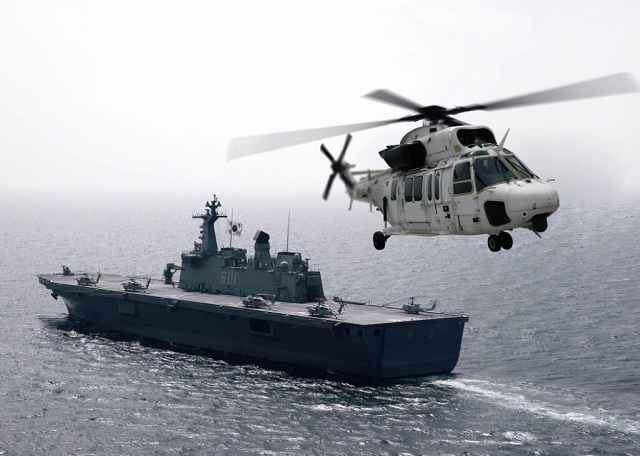 KAI Surion-amphibious task helicopter was designed to be based onboard Dokdo class LPH
Picture: KAI
KAI started the navalization project in 2013 to produce a sea-based version of the twin-engine transport utility helicopter for the Marines, which will carry out transport missions from or to vessels at sea. Since its maiden flight in January 2014, KAI conducted eight months of test flights and achieved qualification on the new helicopter's capability to operate in the marine environment.
Video showing the Surion in Amphibious variant during qualifications. Video: KAI
The marine version comes with additional functions and high-tech equipment to be used for the Marine Corps' various amphibious missions.

Two auxiliary fuel tanks were added to the marine chopper in addition to the four original tanks, which empowers the upgraded model to fly 524 kilometers for three hours without stopping. The extended range was verified in a flight test conducted in September 2015, according to KAI.

The helicopter is also fitted with folding rotor blades to reduce their footprint while parked on surface vessels.

On 13 December 2005, the Korean government announced Eurocopter as the main partner of Korea Aerospace Industries in the KUH program for the development of the first Korean military transport helicopter.