a
Naval Forces News - Russia
Russian Navy Landing Ship Ivan Gren LST to continue builders' trials in spring
Russia's Project 11711 large amphibious assault ship Ivan Gren will go to sea in the spring of 2017 to continue its shipbuilders' trials, Yantar Shipyard spokesman Sergei Mikhailov said in an interview with RIA Novosti news agency. "Work on the ship is currently under way. The necessity of the work was revealed during the first stage of its trials," Mikhailov said.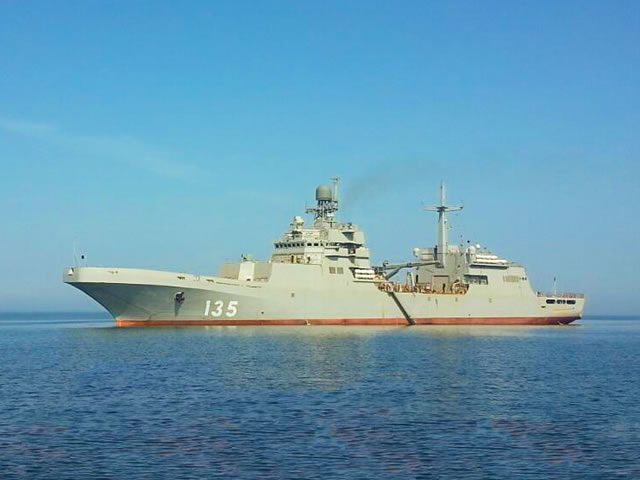 Russia's Project 11711 large amphibious assault ship Ivan Gren at sea for the first time
Picture taken on 06.25.2016. Source: RoyalJib / forums.airbase.ru

"As soon as the work is completed, the ship Ivan Gren will continue its shipbuilders' sea trials. Their success will be crucial," he added.

In accordance with the renewed program, the ship is expected to be delivered to Russia's Navy in 2017. The Project 11711 large amphibious assault ship Ivan Gren is designed to land marines on a coastal area seized by the enemy and transport military hardware and equipment. The ship can carry 13 tanks or 36 armored personnel carriers. Instead of marines, it can transport 1,500 tons of cargo. The ship can carry one or two Kamov Ka-29 (NATO reporting name: Helix-B) troop lift helicopters. It may carry the Ka-52K (Hokum-B) shipborne rotorcraft as well.

The ship Ivan Gren is armed with two 122mm A-215 20-round rocket launchers, the Igla (SA-18 Grouse) man-portable surface-to-air missile system, the 100mm A-190 gun and the 30mm AK-630M small-caliber antiaircraft artillery system.

The ship has a displacement of 5,000 tons, a length of 120 meters, a width of 16.5 meters, a speed of 18 knots and cruising capacity of 30 days. The ship's crew totals 100.
© Copyright 2016 TASS. All rights reserved. This material may not be published, broadcast, rewritten or redistributed.

Comment by Navy Recognition
Sea trials were put on hold in October 2016 after problems surfaced with the degaussing system. A Yantar representative said at the time: "At the initial stage mistakes were made in calculating the magnetic field of the warship and now it is necessary to adjust the degaussing system,"

The Ivan Gren large landing ship had its keel laid in December 2004 and was floated in May 2012. Factory tests began in the second half of June 2016. The warship was set to be handed over to the Russian Navy by the end of 2016. The defense ministry ordered Yantar to build yet another warship of the project - the Petr Morgunov. It has to be passed on to the Navy in 2018.